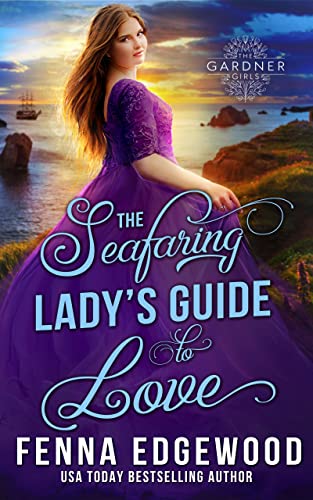 04/04/2023
From USA Today bestselling author Fenna Edgewood comes a dazzling series perfect for fans of Scarlett Scott, Erica Ridley, and Bridgerton... Four sisters must face pride, peril, and adventure before each finds a love that conquers all.

★★★★★ "Spectacular! A must read book." - Misty, Goodreads Reviewer

★★★★★ "Phillip Calvert is a hunk." - Cara Maxwell, Author of The Hesitant Husbands Series


What would you do for a little adventure?
A rebellious young lady…

Miss Rosalind Gardner's two older sisters are happily married, but she has no plans to follow in their footsteps anytime soon. Determined to see the world before settling down, she sets out on an ocean voyage to distant lands. Exuberant, warm-hearted, and ceaselessly optimistic, Rosalind has spent her life waiting for this opportunity. But it's one thing to dream about adventure and another thing to live it—especially when doing so means living in close quarters with the coldest, most arrogant man alive.

…and a heartless hero…

Philip Calvert has already lived two very different lives. A rebellious rake in his youth, he was thoroughly reformed when he fell in love with his first wife, only to lose her tragically. When he undertakes a perilous sea voyage, Philip is horrified to find himself boxed in with an uninhibited hoyden who has used his name to secure her passage. Having sworn off love and marriage, his resolve will be tested by this high-spirited woman whose passion and beauty threaten to pull him into uncharted waters.

…are about to set sail on a journey into love.

Out on the deep blue sea, with nowhere to run and nowhere to hide, small berths and narrow decks bring hidden desires into the light... along with dark secrets better left buried.


Featuring some of your favorite tropes...
Enemies to Lovers

Grumpy/Sunshine

Curvy Heroine

Forced Proximity

Only One Bed!
Famous Book Quotes
"Only the very weak-minded refuse to be influenced by literature and poetry." ― Cassandra Clare, Clockwork Angel
View More