27 May, 2023 By Chelsea Parker
Top 7 Romance eBook Suggestions for Your Next Book Club Meeting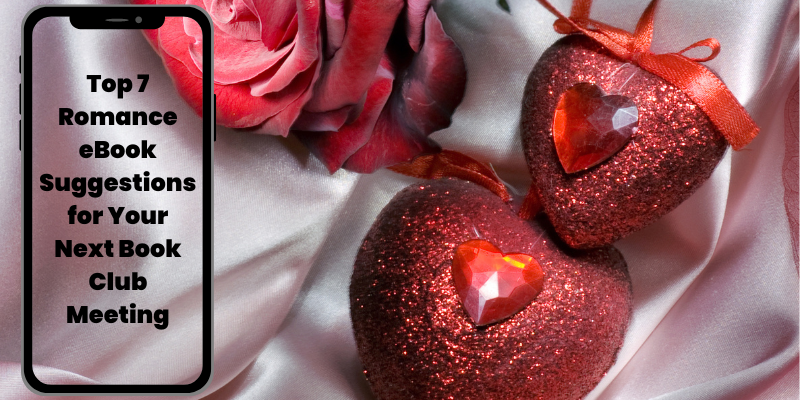 Top 7 Romance eBook Suggestions for Your Next Book Club Meeting
Choosing the next book for your book club meeting can be a real challenge, especially if you're looking for something that will appeal to everyone's taste. If you're a fan of heartwarming love stories, swoon-worthy characters, and compelling plotlines, we've got you covered. Here are our top 7 romance novel recommendations that are sure to spark interesting discussions at your next book club meeting.
1. "The Rosie Project" by Graeme Simsion
A heartwarming and charming novel, "The Rosie Project" follows the socially awkward geneticist Don Tillman as he embarks on what he calls the Wife Project to find his perfect partner. His carefully crafted questionnaire goes awry when he meets Rosie, leading to a beautiful, humorous love story. The book touches on themes of love, acceptance, and individuality.
2. "Outlander" by Diana Gabaldon
If your book club enjoys historical romance, "Outlander" is a must-read. This time-traveling epic follows the story of Claire, a WWII nurse, who mysteriously gets transported back to 18th-century Scotland, where she meets and falls in love with a Highlander, Jamie Fraser. The novel explores themes of love, loyalty, and the concept of time.
3. "Pride and Prejudice" by Jane Austen
No list of romance novels would be complete without this classic. "Pride and Prejudice" explores the story of the independent and quick-witted Elizabeth Bennet and her complex relationship with the proud Mr. Darcy. Austen's classic explores themes of love, class, and reputation.
4. "The Hating Game" by Sally Thorne
For a modern-day enemies-to-lovers story, your book club will enjoy "The Hating Game". The story revolves around Lucy and Joshua, two executive assistants forced to compete for a promotion, in the process discovering that they might not hate each other as much as they thought. The novel is a delightful exploration of competition, love, and understanding.
5. "Red, White & Royal Blue" by Casey McQuiston
If your book club is interested in LGBTQ+ romance novels, "Red, White & Royal Blue" is a delightful and heartwarming read. The story follows the son of the US president, Alex, and the British prince, Henry, as they go from feuding to falling in love. It's a tale of love, duty, and the power of authenticity.
6. "The Kiss Quotient" by Helen Hoang
Stella, a woman with Asperger's syndrome, hires an escort, Michael, to teach her about relationships and intimacy. But things get complicated when they start developing feelings for each other. This book sensitively explores themes of neurodiversity and emotional vulnerability in a romantic relationship.
7. "Normal People" by Sally Rooney
A profoundly moving novel, "Normal People" follows the complex relationship between Marianne and Connell as they navigate friendships, family dynamics, and love from their high school years into early adulthood. The book deals with themes of social class, communication, and power dynamics in relationships.
There you have it, romance lovers! Our top seven picks for your next book club meeting. Each of these novels offers unique insights into the world of love and relationships, and they're sure to generate plenty of discussion. So grab a cup of tea, settle down with one (or all!) of these books, and let the romance sweep you off your feet.
Romance Book club subscription
There are numerous romance book club subscriptions available that cater to the diverse tastes of romance readers.
Before subscribing, I would recommend researching each option to see which one fits your reading preferences and budget the best. Always check the most current information on the company's official website or contact them directly for specifics.
Until next time, happy reading!