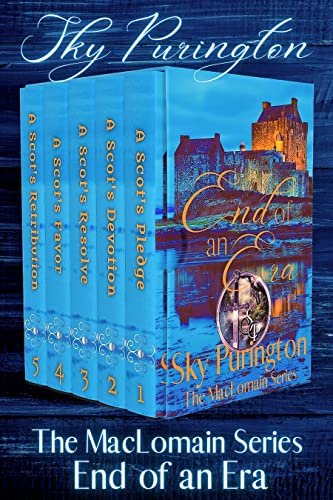 02/25/2023
Pulse-pounding action, wild magic and explosive passion! Travel back in time to medieval Scotland and ancient Ireland in a saga that merges history with the mystical. Five full-length, steamy novels teeming with riveting characters, non-stop adventure, and unforgettable love.

A Scot's Pledge- From friends to lovers, forbidden passion sparks between a modern-day woman and a medieval warrior. Will Julie and Laird Tiernan MacLomain be able to defeat a dark threat nobody foresaw without the power of predestined love? Or will breaking the rules be their ultimate downfall and Scotland's ruin?

A Scot's Devotion- Thrust on a whirlwind adventure alongside Scotland's Guardian, Donald, Earl of Mar, Laird Aidan Hamilton and Chloe windup on a heart-wrenching journey neither foresaw. Will Aidan remain devoted to his long lost love? Or will defeating the enemy mean embracing someone new?

A Scot's Resolve- Eager to confront the meddlesome lass haunting his thoughts, Cray MacLeod travels to the twenty-first century only to discover his cousin, Ethyn already there pursuing Madison. He won't be the only one, though. The moment Cray lays eyes on her he wants her too. Even if it means drawing closer to daunting secrets they never saw coming.

A Scot's Favor- An enemies-to-lovers tale rife with haunting intrigue and unholy secrets. Will Ethyn and his destined Broun be able to break the spell that both binds them together yet keeps them apart? The price they paid for forbidden love long ago? Or will the curse that's held them hostage for centuries mark the beginning of a dark end?

A Scot's Retribution- Will Laird Marek MacLeod find solace in the arms of the lass he's loved since the beginning? Or is his soul already damned and the fate of Scotland doomed? Find out in the edge-of-your-seat epic conclusion of the entire MacLomain Series.

Roll back the clock and join the MacLomains one last time on a journey for the ages where the power of the Claddagh ring still holds sway. From real-life historical figures to those lesser known, join a cast rich with hot highland wizards, sexy witches, fierce dragon shifters, druids, Fae, and so much more!

Digital Books

Famous Book Quotes
"Science and religion are not at odds. Science is simply too young to understand." ― Dan Brown, Angels & Demons
View More