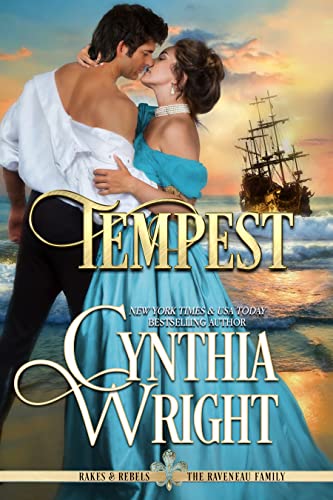 01/08/2023
"I believe Cynthia Wright will make a lifelong fan out of every person who reads TEMPEST!"~ Lauren Royal, New York Times Bestselling Author
A marriage of convenience in the Gilded Age…
American heiress Catherine Beasley Parrish has been groomed all her life to marry an English duke. However, when she meets Adam Raveneau, the latest in a long line of Raveneau rakes and a newly created viscount, Cathy awakens to a destiny worth fighting for.
Although Raveneau insists that he is not marriage material, he is in desperate need of funds to restore Tempest Hall, his crumbling family estate on Barbados. And when Cathy begs him to save her from the toad-like duke her mother intends her to marry, Adam realizes that they may be able help each other.
Following a passionate honeymoon voyage on the high seas, Cathy and Adam arrive at their island home to find legends of pirate treasure and face the realities of their complicated marriage of convenience.
Can two people who wed for all the wrong reasons discover that a lasting love is the greatest treasure of all?
"Readers rejoice! Cynthia Wright takes on stuffy turn-of-the-century American society and flips it into a sensual adventure/romance that makes your heart pound with excitement and joy. Pure reading pleasure!!!" ~ Kathe Robin, RT Book Reviews
Famous Book Quotes
"My Best Friend is a person who will give me a book I have not read." ― Abraham Lincoln
View More