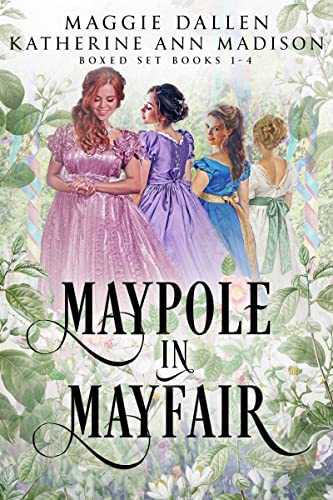 03/09/2023
Four fun, fresh and sweet romances sure to delight. Discover how four unfortunate wallflowers make a wish and manage to stumble into love...

A Wish Upon a Duke
How does a wallflower change her fate?
One Maypole
One Duke
One naughty puppy
And a little wish… May Day is bearing down on Mayfair and Miss Aubrey Featherington is facing another failed season. It's difficult to be a successful debutante when one is as painfully shy as herself.

A Wish Upon a Marquess
How does a socially inept bluestocking find love?
One ruined chemistry set
A marquess in need of a scientific mind
Three meddling friends and, of course
One wish upon a maypole
Miss Camilla Fairbanks' romance starts with a bang. Literally. The explosion is heard by everyone in the Marquess of Ashburn's country estate.

A Wish Upon an Earl
How does a near spinster find love?
A knight in shining armor
A little wish about the Maypole
A masquerade ball
And one injured foot…
Lady Sarah Appleton stands accused of a terrible crime. She's a known romantic. Or at least she was until one epically awful attempt to use her romanticism to catch the love of her life.

A Wish Upon a Viscount
How does a daydreaming debutante find love?
One forgotten book of poetry
A case of mistaken identity
A love letter to the wrong beau
And a wish made 'round the maypole
Miss Rose Waterstone might be a romantic, but she knows better than to believe romance can happen to her. True love and magical wishes are all well and good in poetry, but there's no place for it in her real life—not when the fate of her destitute family depends on her marrying well.

Famous Book Quotes
"Once you have read a book you care about, some part of it is always with you.Once you have read a book you care about, some part of it is always with you." ― Louis L'Amour, Matagorda/The First Fast Draw
View More