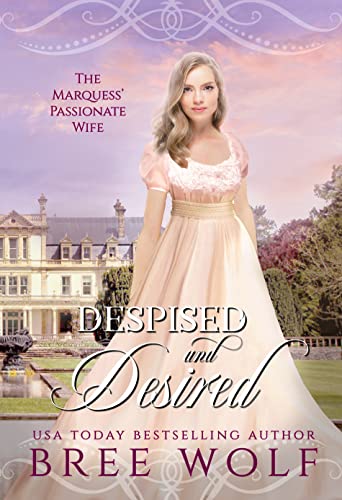 03/28/2023
"A heart-warming, sigh-worthy romance." – Collette Cameron, USA Today bestselling author

War hero Frederick Lancaster never intended to become the Marquess of Elmridge. When his mother picks spinster Ellie Munford as his bride, he doesn't expect romance — but together they might find love and healing in each other's arms. A captivating Regency romance by USA TODAY bestselling author Bree Wolf

England 1806: SIR FREDERICK LANCASTER returns from the war with France a broken man, guilt-ridden over the loss of a friend who's been like a brother to him all his life. Then tragedy strikes again, plunging Frederick into a darkness he fears he'll never escape, and forces on him a life he never wanted.

As the new Marquess of Elmridge, he is duty-bound to find a wife and father an heir. However, once that task is completed, he'll finally be free to return to the battlefield and end his miserable existence. A sound plan if ever there was one.At least, until his mother chooses spinster ELSBETH MUNFORD to be his bride.

After an accident almost took her life, Ellie's beauty is tainted by ugly scars, ensuring her a place on the shelf as far as society is concerned. Still, despite the tragedy she's suffered, Ellie has remained a vivacious and caring young woman, who refuses to do one thing: give up…on herself or anyone else.Least of all her new husband, a man she's secretly loved for as long as she can remember. Before Frederick knows what's happening, he catches himself thinking of his new wife day and night. Her gentle kindness and unfaltering strength call to him, stir his pulse and awaken a long forgotten yearning for love…and life.

But what about the last step of his plan? Will Ellie find herself a widow soon? Or will Frederick risk everything and open his heart to her?

If you like marriage of convenience stories with a touch of mystery, a dash of humour as well as deep, heartfelt emotions, then you'll love this installment of Bree Wolf's emotionally charged Love's Second Chance Series. Buy DESPISED AND DESIRED, grab a cup of tea, settle into your favorite reading spot and start this swoon-worthy romance now!

Famous Book Quotes
"I lived in books more than I lived anywhere else." ― Neil Gaiman, The Ocean at the End of the Lane
View More