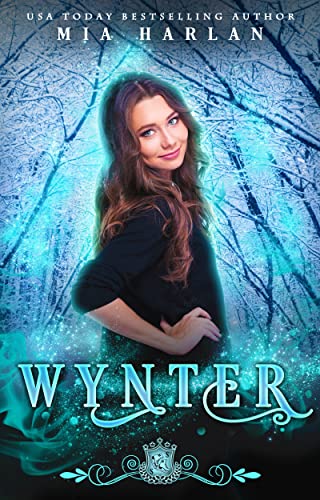 02/16/2022
In Silver Springs, everyone knows your name… and your business. I'm Zoe Wynter, the best magical maid in town, and rumor has it I'm about to go to jail.
I didn't rob the little shops I've been hired to clean. But in a town filled with quirky residents who shift mid-conversation and cast wonky spells, finding the real burglar won't be easy.
Luckily, a pair of magical silver skates send me a little help:
Xavi, a sweet, protective journalist who shifts into a block of ice but is oh so hot.

Leith, a famous hockey player who shifts into everyone he meets… and really knows how to use his stick.

And Ghost, a powerful mage detective who's already broken my heart once.
Three tempting men. My fated mates. I can tell they want me as much as I want them. They should be helping me clear my name, but they reject me, one by one. All I've got left is the paranormal town I call my home and the job I've worked so hard to get, but am I about to lose that, too?
Wynter is a standalone in the Silver Springs universe and comes complete with a happily-ever-after. Scroll up to read this quirky paranormal romance today
Digital Books

The sports nonfiction genre comprises books containing knowledge about particular sports and the way they have played and autobiographies, or biographies, of players or coaches of most popular sports. Novels in the sports genre may also be on the history and source of a popular or major game and how it came to this stardom. Popular sports include, but are not restricted to: baseball, basketball, soccer, soccer, cricket, tennis, and hockey. In this genre, you will get the biography of a sportsman or any victory-related books. Also, sports training tips books like cricket tips, football tips fall under this genre. Cricket and football books are more popular than others in this category. 
Famous Book Quotes
"I lived in books more than I lived anywhere else." ― Neil Gaiman, The Ocean at the End of the Lane
View More