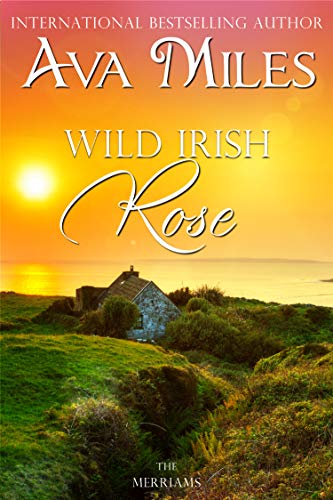 03/15/2023
International Bestselling Author Ava Miles kicks off another blockbuster feel-good family series with an irreverent hero, two well-intentioned matchmakers, and a heroine as beautiful as a wild Irish rose. A USA Today Bestseller.
Billionaire Trevor Merriam doesn't like being ordered around by his older brother, much less to a sleepy Irish village to complete a business deal for their family company.
Worse: the owner of the land he needs to buy doesn't want him there. In fact, Becca O'Neill loathes him so much that she won't even serve him the award-winning scones her famed Wild Irish Rose Bed and Breakfast is known for.
Even worse than that (and not getting scones is bad in Trevor's book): Becca has an ornery cat, a mischievous Irish setter, and a lovesick alpaca that delights in chasing him around. Then there's the woman herself. If she weren't so indignant about his business offer, they might have a good romance budding.
Worst of all: his Uncle Arthur and Aunt Clara Hale show up from Dare Valley hoping to help him get hitched—not exactly the help he was looking for.
How in the world is he going to make this deal with his heart—and his dignity—staying intact?
Like Ireland and more feel-good stories? Ava's bestselling family series, The Merriams, is filled with charm, second chances, and happily ever after. Millions love it. Discover why today.
WILD IRISH ROSE: Billionaire Trevor is sent by his family to acquire Becca's land but finds that he wants the prickly Irish innkeeper and her menagerie of animals instead.
LOVE AMONG LAVENDER: When CEO Caitlyn asks country rock star Beau to be the face of her new perfume, she doesn't expect him to jump on a plane and join her in Provence, bringing his secrets with him.
VALLEY OF STARS: Nature expert Michaela never expected to see her ex again, but adventurer Boyd invites her on the journey of a lifetime to find a rare healing flower, hoping for a second chance.
SUNFLOWER ALLEY: When Billionaire Connor is mistaken for homeless by shelter director Louisa, he offers to help her, only to realize that she's the one helping him—and showing him the way to love.
A FOREVER OF ORANGE BLOSSOMS: Playboy Flynn travels to America's heartland to entice boutique skincare owner Annie to help him corporate holiday gifts, only to find she and her daughters are the greatest gifts.
A BREATH OF JASMINE: Billionaire Quinn inherits the family business on the brink of ruin, and the only person who can help save the Merriams is corporate consultant Francesca, his lost love.
Famous Book Quotes
"Books are mirrors: you only see in them what you already have inside you." ― Carlos Ruiz Zafón, The Shadow of the Wind
View More