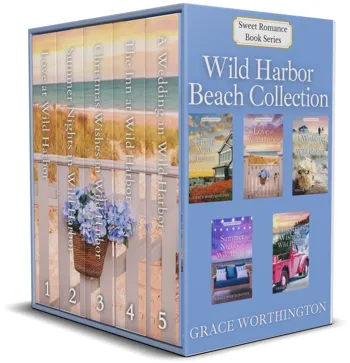 01/26/2023
A charming and heartwarming sweet romance book series!
When you need a clean romance beach escape with all the love, laughter, and small town sweetness you could ask for, then escape to Wild Harbor!
This five-book series follows the lives and love stories of four siblings as they discover the meaning of family, finding home, and falling in love.
This collection includes:
Love at Wild Harbor
One chocolate shop. Two fixer uppers. Three feisty sisters. One sweet love story to bring it all together. A second chance romance about a chocolate shop owner who falls for the guy who broke her heart years ago. Now he's back to help her with her fixer upper and he's not going to leave until she says yes. Will she let him back into her life…and her heart?
Summer Nights in Wild Harbor
A competitive newspaper journalist meets her handsome match: the guy she's forced to team up with at work and not fall in love with. Will she get the promotion she desperately wants or will her heart give in to the guy who'll do anything for her? A heartwarming enemies-to-love story!
Christmas Wishes in Wild Harbor
She needs a date for Christmas. He doesn't want to spend Christmas alone. They make an agreement to fool everyone in town with their fake relationship, only to discover their feelings are anything but pretend. The perfect Christmas book for those who like an idyllic small town Christmas love story!
The Inn at Wild Harbor
She inherits an inn from a relative only to discover her best friend's brother (and the guy she has a secret crush on) is the handyman there. Can she survive running the inn without her feelings getting in the way? Or will this surprise inheritance finally bring them together? A delightful friends-to-more romance story!
A Wedding in Wild Harbor
She needs someone to save her beloved bookstore. He needs to satisfy his mom's wishes and find a girlfriend. Can this grumpy-sunshine romance pair survive an agreement to pretend to be in love so that everyone's happy? Or will their budding feelings turn into something more—a delightful and surprising happily ever after?
The Wild Harbor Beach Collection is a feel-good, heartwarming clean romance series!
Digital Books

Famous Book Quotes
"Think before you speak. Read before you think." ― Fran Lebowitz, The Fran Lebowitz Reader
View More