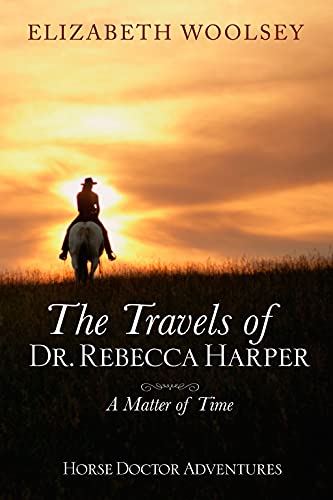 01/20/2023
Have you ever dreamed of joining Matt Dillon and Roy Rogers in their Western adventures? Just get away from your real life for a day? But what if you couldn't return?

"An entertaining walk through the 19th century that will appeal to lovers of horses and historical fiction." -- Kirkus Reviews. Kirkus Verdict: GET IT!

Fans of Time Travel Fantasy (Outlander) and old Westerns like Bonanza, will LOVE this historical romance series The Travels of Dr. Rebecca Harper.

Rebecca had her life planned and checked off her list: a veterinary degree, a husband and daughter, and her first veterinary clinical position. She was set for life. But then the unexpected happened...

A chance encounter separates her in time and space from all she had planned. Disoriented and desperate, Rebecca begins an adventure to places she could not imagine.

Facing both physical and emotional trials, she fights to find her life again. In the spirit of True Grit, Rebecca Harper won't stop until she reaches her goal.

In her quest to return to her family and time, Rebecca meets real and fictional characters of the 1800s who help her traverse America. Will she be able to find her way back to the 1900s, or is she bound to the past?

Grab your copy now and join Rebecca on the ride of her life!

Famous Book Quotes
"A house without books is like a room without windows." ― Horace Mann
View More