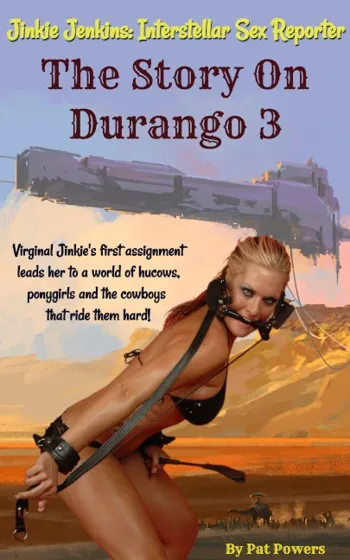 03/02/2023
This book is normally $1.99, now available FREE when you use Coupon Code ZA39T
"I'm going to be a sex reporter? And my beat is going to be WHAT?"

Those are the first words of newly hired reporter Jinkie Jenkins, right out of journalism school, when her editor, Grabthar Assurilogan of the Interstellar Inquirer, put her on the Sylphs of Space beat, aka the sex beat. Jinkie was outraged. She wanted to cover the crime beat, specifically, she wanted to investigate the most exciting story in the Human Quadrant, the kidnapping of an entire planet.

But Assurilogan insisted that she was on the sex beat, take it or leave it, and Jinkie was a reporter, darn it, so she took the sex beat, even though she was from a planet where women were encouraged not to think about sex, much less have sex, prior to marriage. And since moving offplanet, she had stayed true to her planet's sex values, or tried to.
Yet here she was, a sex reporter, and on the Sylphs of Space beat, yet!

Sylphs were a popular cultural phenomenon on most planets, sex-positive, submissive women who liked playing at being sex slaves and other things. And thanks to advanced nanotech that let them shape their bodies and minds to suit their desires, play they did. Bound and gagged and chained and collared, they played with gusto at pleasure. People were fascinated by the doings of sylphs and the people who played with them, which is why they were a staple of sex reporting.

On her first assignment, Yahoo City on the rural planet of Durango 3, Jinkie will find all sorts of people. There will be her local guide Pea Eye the woman wrangler, the most masculine man she has ever met. There will be hotmeat, the wise sylph. There will be hucow stampedes and barroom brawls. And there will be her editor Grabthar, harrying her via interstellar holograms about the chaos that Jinkie leaves in her wake as she covers the sex lives of cowboys, hucows and ponygirls on Durango 3.

Can innocent and chaste Jinkie cover the story of of this wild women of outer space without being overwhelmed by the libidinous promptings of her long-stifled sex urges? And will Jinkie ever make any progress in breaking the planet kidnapping story open?

You'll just have to read this lighthearted, sexy space opera to find out. It's a little over 23,000 words. If you're looking for a funny science fiction novella set in an interstellar empire where human beings use nanotech to alter their bodies and minds to suit their fun, kinky sexual urges, you've found it!

This book is part 1 of the Jinkie Jenkins, Interstellar Sex Reporter trilogy. Also available are Part 2: Jinkie Jenkins on Sexquest Station, Part 3: Attack of the 100-Foot Virgin and the Jinkie Jenkins Adventures Bundle, comprising Books 1-3.

Famous Book Quotes
"Literature is a luxury; fiction is a necessity." ― G.K. Chesterton
View More