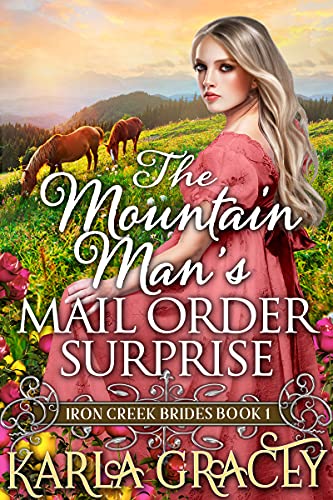 03/04/2023
Life will throw a lot of trouble your way—but love is always the reward.
As an orphan who was raised by the Chippewa Indian tribe, Garrett Harding has grown up caught between two worlds.
Belonging to neither the Chippewa people nor the nearby settlement of Iron Creek, Garrett has lived apart from both communities, welcoming the solitude of a life spent alone.
But now, he has had enough of the loneliness—now, Garrett wants a wife.
Katy Jones is desperate.
After a deadly pandemic left her a widow, Katy now finds herself trapped in a disease-ridden town.
She is desperate to flee before she falls victim to the same sickness that recently took the life of her husband—but her rebellious marriage left her disowned from her family, and now Katy has no one to turn to for protection or help.
Needing a way out of town fast, Katy advertises as a mail-order bride, and it seems that fortune is on her side when Garrett sends her his reply.
Her journey to meet him in his homeland is a troubled one, but once she arrives, Garrett is there with his kindness and support, and Katy is hopeful for their future together.
But Katy is carrying a life-changing secret that she must keep from Garrett until after their wedding.
As their connection deepens, her guilt for deceiving Garrett begins to overwhelm her need for secrecy.
But if he learns the truth, Katy knows that Garrett might reject her and cast her out—and there is too much at stake for her to risk that.
But how long will she be able to keep the truth from her husband-to-be?
The Mountain Man's Mail-Order Surprise is a charming story about love and forgiveness. Will Katy ever find the courage to tell Garrett the truth in time to save their relationship? And if she does, will Garrett ever forgive her for lying to him?
To lose yourself in this romantic tale, scroll up and click "Add to Cart" right now. Love is nothing without trust.

Digital Books

Famous Book Quotes
"The love of learning, the sequestered nooks, And all the sweet serenity of books" ― Henry Wadsworth Longfellow
View More