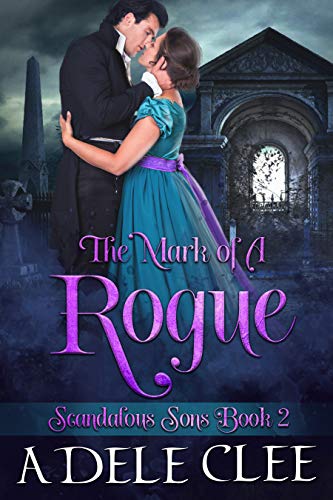 08/13/2022
Read the next sizzling installment in the Scandalous Sons series.
The path to true love begins in the most unlikely place.

A late-night encounter in a graveyard.

When Lawrence Trent, illegitimate son of Viscount Ranfield, discovers someone is secretly tending his brother's grave, he feels compelled to investigate. Since his brother's mysterious death, he's been plagued by suspicions of murder and is desperate to find proof. Imagine his surprise when he encounters a young woman in the churchyard at midnight. Imagine his shock when she instructs him to strip off his shirt, demands to see if he bears the mark of the notorious gentleman's club known as the Brethren.

A lady who needs to atone.

Believing herself responsible for the deaths of her cousin and his friend, Miss Verity Vale can do nothing to make amends other than pay her respects. Having suffered at the hands of a Brethren blackguard, too, she is helpless when it comes to seeking justice. Until an encounter with a handsome stranger brings a perfect opportunity for vengeance.

A wild and passionate adventure for two people who never hoped to find love.
Thrown together in a bid to solve the mystery and find those who killed their kin, Lawrence and Verity journey into an evil world of blackmail and corruption. But it's not the shocking revelations about the Brethren that send their hearts racing. It's their growing attraction to each other. Can love blossom when the Brethren are determined to tear them apart?
Find out in The Mark of a Rogue.

Features:
Regency historical romance novel

Contains some descriptive sex scenes bursting with love and passion

A satisfying mystery with a wicked villain you'll love to hate.
What Amazon readers said about Book 1 in the Scandalous Sons series.

"One of my very favorite authors, Adele Clee brilliantly creates a story with all of the facets of intrigue, suspense, fear and two characters who wrap around your heart."

"Adele Clee does a great job mixing in an intriguing mystery with a love story about two people who aren't expecting love but find it anyway."
"WOW! Just Wow! This was such an emotional rollercoaster of a story! A gritty second chance at love full of passion, sorrow, betrayals, villains bent on murder, mystery and intrigue, hope, and a love so deep that never dies."
Famous Book Quotes
"There is no mistaking a real book when one meets it. It is like falling in love." ― Christopher Morley, Pipefuls
View More