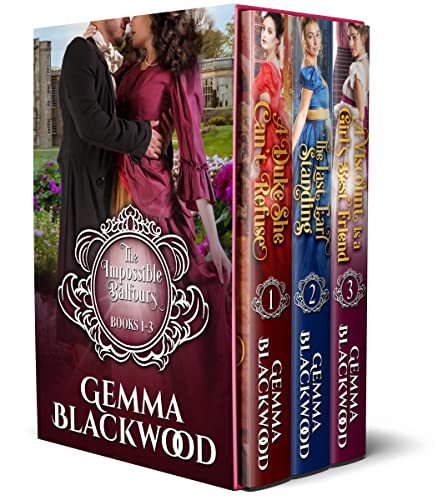 11/29/2022
You'll fall in love with The Impossible Balfours in this delightful set of sweet romances brimming with action, wit and passionate love!

In A Duke She Can't Refuse, Miss Daisy Morton is accidentally caught in a duke's bedroom by one of society's most notorious gossips. The stern yet beguiling Duke of Loxwell steps in to save her reputation with a make-believe engagement. There's only one rule: she can't fall in love with him.

A bluestocking with a secret nom de plume competes with a dashing spy to uncover a scandal in The Last Earl Standing - and their magnetic attraction throws their secrets, their lives, and their hearts into jeopardy.

Lady Edith Balfour has not eloped with her dearest friend, Lord Rotherham. But persuading him, her family, and her own heart to believe that is proving unexpectedly difficult… After all, A Viscount is a Girl's Best Friend.

This box set comprises the first three books in the series The Impossible Balfours.

Famous Book Quotes
"A room without books is like a body without a soul." ― Marcus Tullius Cicero
View More