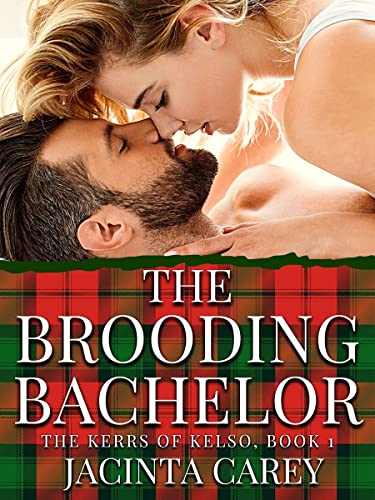 08/26/2022
Guinevere Kerr, Gwen, is down from Scotland for the first time ever, for a Season in London, along with her three sisters and three cousins. She hopes they'll all do well on the Marriage Mart, with her serving as their spinster chaperone, though she's only twenty-three herself.

Knowing no one in London, she tried to make the acquaintance of one of their next-door neighbors, dubbed the brooding bachelor, Lord Hugh Lyon, Viscount Ferndown. He's so appallingly rude to Gwen and her youngest sister Igraine, they swear they'll have nothing more to do with him.

They may be fresh from the country, but Gwen knows a gentleman when she sees one. Hugh is mortified by the assumptions he makes as to why the two lovely young women have come for a visit, and instantly regrets his bad manners. Clawing his way into Gwen's good books becomes an obsession.

He's helped along by his glamorously rakish friend Mick Devane, the Earl of Antrim, who lives in the house on the other side of the Kerrs. Together, the two men become part of the charming Kerr family circle, and soon set their sights on their lady loves.

But Gwen's grim family troubles prevent her from ever considering a future with Hugh. And far from being an ally in Hugh's troubles, Mick manages to make things even worse. A ghost from Hugh's own past threatens any chance of him finding happiness. Can Hugh convince Gwen he's the only man for her, before it's too late?

Sensuality Rating
This novel contains several sensual, and several explicit love scenes, and some sensitive language and topics. It is intended for mature audiences.

Word Count=110,537

About the Author
Jacinta Carey is author of a number of popular historical romance series, including The Starbuck Saga, The Wild Heart series, The Ravishing Romans series, The Gordons of Gretna series, and The Kerrs of Kelso series. She loves to cook for her large family and all her friends, and adores cats.

About The Kerrs of Kelso Series
Meet the Kerrs of Kelso, Scotland, 4 sisters and 3 cousins all taking Regency London by storm in their first Season as they vie for wonderful husbands on the Marriage Mart. All seven girls are determined to meet the loves of their lives. Alas, Fate might have other things in store for them....

Readers interested in the girls' two brothers, James, the Earl of Roxborough, and cousin Rich, can read "The Risky Heart," Book 5 of The Gordons of Gretna series.

Famous Book Quotes
"Good books don't give up all their secrets at once." ― Stephen King
View More