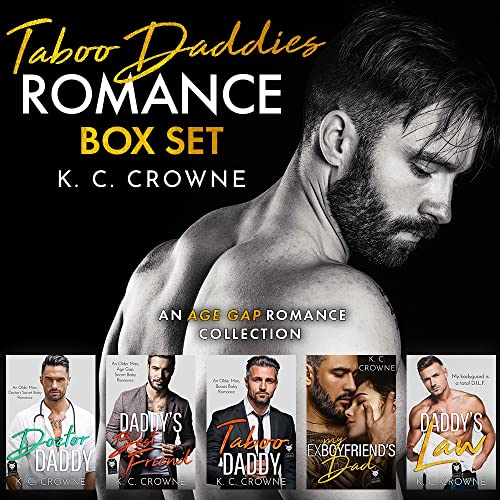 01/21/2022
Five sensational taboo older men and the lucky younger ladies who capture their hearts.

This box set will be offered for a limited time. Grab this delectable mixture of forbidden Amazon Top 100 romances in a hard to resist package.
Book One: Doctor Daddy
It was the perfect arrangement…
Three hot days and steamy nights in the city of love.
No strings attached. No phone numbers exchanged. No real names.
Fast forward 9 months later and guess who is the doctor delivering my baby - and he's probably going to flip!!!
Book Two: Daddies Best Friend
Matthew isn't just older...
He's my dad's best friend. And my new hot boss.
Will I regret everything after discovering I'll become the mother of his baby?...
And when danger comes knocking can he save us when we need him most?
Book Three: Taboo Daddy
15 years age gap?
It's naughty. It's taboo. It's scandalous.
And a scandal is the last thing my family needs.
But the pink bars on the screen tell me that this little secret...
Won't stay little for very long.
Book Four: Ex Boyfriend's Dad
My son and I fell for the same girl.
And now her life is in my hands.
But how am I supposed to guard her life...
When all I can think about is devouring every inch of her for myself?
Book Five: Daddies Law
He's twenty years older.
HOT single daddy.
And my very bossy bodyguard.
Should I be more worried about the dangerous men after me...
Or the inappropriate feelings I have for my much older bodyguard?!

If you enjoy the following you will LOVE Taboo Daddies:
❤️Older men younger women
❤️Hot doctors
❤️Single daddies
❤️Secret babies
❤️Surprise deliveries
❤️Daddy's best friends
❤️Possessive bodyguards
❤️Ex-boyfriend's dads
❤️ Older bosses
❤️ Forbidden toe curling slow burns
Note to readers: This box set will be offered for a limited time.
Digital Books

Books in the contemporary fiction genre are composed of stories that may happen to real people in actual settings. The novels don't fall under other genres or categories. They often happen in precisely the same period that the reader is living (the present), with things that are now, or might be occurring, precisely the same period. The contemporary genre also contains conversational and casual dialogue and sometimes even regional dialects. Contemporary fiction novels will provide you a lot of choices to grow your life reading list. Writers, generally speaking, search for what's trending in their own time for their literary work since it lets them illuminate the weakness or strength of the society.
Famous Book Quotes
"That's the thing about books. They let you travel without moving your feet." ― Jhumpa Lahiri, The Namesake
View More