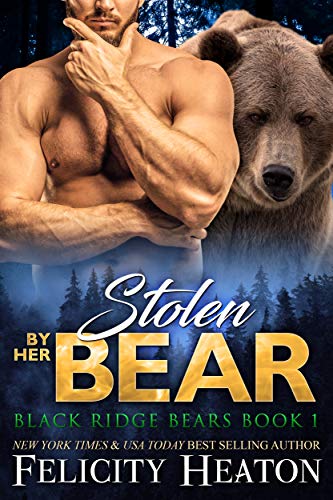 03/01/2023
Saint is a bear shifter on the war path. He just wants to sleep the winter away, but his rowdy neighbours in the remote Rocky Mountains valley have other plans. When the cougar shifter brothers refuse to keep the noise down, he reacts on instinct, kidnapping a beautiful female who smells like sweet berries and tempts him like no other—a female who happens to be mated to one of the brothers.

Holly's first taste of freedom isn't going as planned. Escaping her family to join in the winter wedding celebrations at Cougar Creek with her friend Ember sounded fantastic, until a grouchy bear shifter grabs her—a gorgeous male who rouses instincts in her that are startling and powerful, igniting a fierce need to growl and stake a claim on him. A gorgeous bear who might be her fated mate.

Can Holly resist the hungers Saint awakens in her? And when Saint realises his mistake about her identity, can he convince the stunning Holly to give him a second chance?

If you love bear shifter romances featuring hot alpha heroes and strong heroines in an immersive paranormal romance world, the Black Ridge Bears series is for you!

Stolen by her Bear is the first book in the Black Ridge Bears paranormal romance series. This fated mates shifter romance features a grumpy grizzly bear shifter who just wants to sleep, a cougar shifter heroine unlucky in love, a case of mistaken identity, a blizzard, and a cast of bear shifters and cougar shifters, all set in the stunning scenery of the Canadian Rockies. Plus, lots of action and adventure--and steamy scenes! All Black Ridge Bears books have no cliffhangers, a guaranteed happily ever after, and some strong language. Enjoy!

Discover five growly bear shifters guaranteed to become your next book boyfriends in this hot new shapeshifter romance series from New York Times and USA Today international best-selling author Felicity Heaton, set in the same rich and addictive world as her Eternal Mates and Cougar Creek Mates paranormal romance series.
Book 1: Stolen by her Bear
Book 2: Rescued by her Bear - Coming Aug 2021
Book 3: Saved by her Bear - Coming Aug 2021
Book 4: Unleashed by her Bear - Coming Sept 2021
Book 5: Awakened by her Bear - Coming Oct 2021

No cliffhangers. No cheating. Just passionate paranormal romance books with a guaranteed happily forever after!

Famous Book Quotes
"I cannot sleep unless I am surrounded by books." ― Jorge Luis Borges
View More