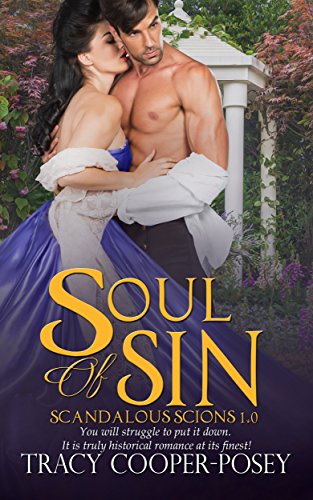 12/10/2022
A heart wrenching story of loss and heartache, passion and longing, love and lust from a bestselling master storyteller.
Two broken hearts, two shattered lives…

Lady Natasha Innesford, Countess Innesford, four years a widow, still cannot stir herself to live. Her life died with Seth.

Lord Raymond Marblethorpe is now a widower. He married for duty yet has lusted after the mysterious Susanna forever. He believes she can never be his.

Can they let go of the past and learn to love again?

Soul of Sin is the first book in the Scandalous Scions series, which brings together the members of three great families, to love and play under the gaze of the Victorian era's moralistic, straight-laced society.

Reader Advisory: This story contains frank sex scenes and sexual language.

This story is part of the Scandalous Scions series:
0.5 Rose of Ebony
1.0 Soul of Sin
2.0 Valor of Love
3.0 Marriage of Lies
3.5 Scandalous Scions Boxed Set 1
4.0 Mask of Nobility
5.0 Law of Attraction
6.0 Veil of Honor
6.5 Scandalous Scions Boxed Set 2
7.0 Season of Denial
8.0 Rules of Engagement
9.0 Degree of Solitude
10.0 Ashes of Pride
11.0 Risk of Ruin
12.0 Year of Folly
13.0 Queen of Hearts

A Sexy Historical Romance
___

Praise for Soul of Sin:

I do not know how this woman does it! I absolutely loved this book.

What a wonderful story! The mystery that began in Rose of Ebony is solved in the romance of Natasha and Raymond. These are terrific characters. It's easy to believe that they could walk out of the pages and into your living room.

Thanks once again, Tracy Cooper-Posey for giving us another great story and for giving me back my love of historical romances.

I was waiting for the continuing story of Lord Raymond and when I read this book I knew the wait was worth it.

This was an awesome book and answered the question, "Who is Susanna?".

I love historical romances and this one filled all my likes, from a dashing, wonderful hero, a beautiful strong heroine, a love story to sigh over, side characters that are interesting, and funny, and move the story along, and in this one a mystery that is solved.

This story was so beautiful and I can't wait for the next in this wonderful new series.

When the mystery of Susanna is unexpectedly solved...it's a moment of crackling tension.

I don't often give books five stars, but I really enjoyed the mystery that puzzled all of the characters in this story.

Tracy Cooper-Posey did it again in my book. I fell in love with "Soul of Sin". After reading "Rose of Ebony" I couldn't stop asking who is Susanna that I couldn't wait for "Soul of Sin".

I never would have guessed who "Susanna" was!
___

Tracy Cooper-Posey is a #1 Best Selling Author. She writes romantic suspense, historical, paranormal and science fiction romance. She has published over 100 novels since 1999, been nominated for five CAPAs including Favourite Author, and won the Emma Darcy Award.

She turned to indie publishing in 2011. Her indie titles have been nominated four times for Book Of The Year. Tracy won the award in 2012, and a SFR Galaxy Award in 2016 for "Most Intriguing Philosophical/Social Science Questions in Galaxybuilding" She has been a national magazine editor and for a decade she taught romance writing at MacEwan University.

She is addicted to Irish Breakfast tea and chocolate, sometimes taken together. In her spare time she enjoys history, Sherlock Holmes, science fiction and ignoring her treadmill. An Australian Canadian, she lives in Edmonton, Canada with her husband, a former professional wrestler, where she moved in 1996 after meeting him on-line.
Famous Book Quotes
"The worst thing about new books is that they keep us from reading the old ones." ― Joseph Joubert
View More