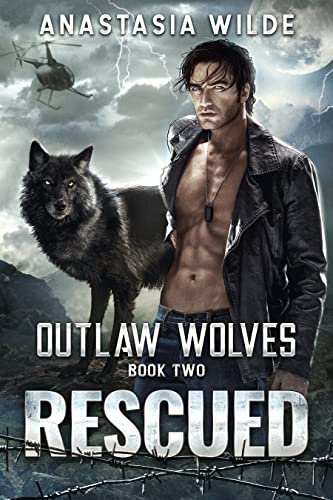 01/31/2023
He's a lone wolf who doesn't want to get tied down—by a mate or by a pack bond.
She's an aspiring model who got in too deep with the wrong people—and now they want her dead.

But when these two opposites meet, it's explosive…

Switch, a helicopter pilot, does pro-bono jobs helping innocent people go underground to avoid psycho exes and crime bosses. But when he picks up Breanna to take her to a safe house, everything goes to hell.

The rendezvous turns into an ambush, and they barely get away. His only option is to take her to his friends at Outlaw Ridge, until they can find somewhere for her to go. Because Switch in no way wants a helpless, lifestyles-of-the-rich-and-famous human cream puff on his hands any longer than necessary.

But Breanna has more to her than he thought—and he can't help being more and more drawn to her. Only thing is, she also has deadly secrets—and she may not share them until it's too late…

RESCUED is the second book in Anastasia Wilde's Outlaw Wolves series, featuring a whole new cast of hot shifter wolves—and some old friends! Order Switch and Breanna's book today!

Famous Book Quotes
"My Best Friend is a person who will give me a book I have not read." ― Abraham Lincoln
View More