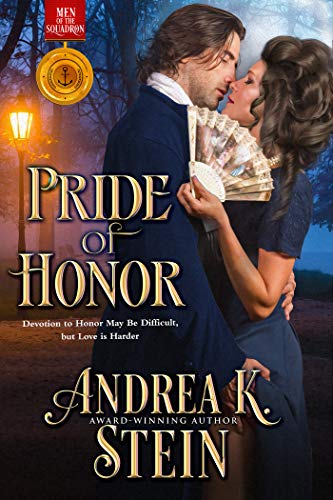 06/16/2022
Two people determined to marry anyone but each other
She must marry to save her inheritance…
Sophie Brancelli, the orphaned, illegitimate child of a duke's daughter, must ensure her marriage to a suitable gentleman of the ton before her twenty-first birthday, or she'll be destitute. Her grandmother, the duchess, provided her with a huge inheritance, but with strings attached.
He needs the right marriage to climb the ranks…
Captain Arnaud Bellingham intends to ascend the ranks of the Royal Navy with a loveless marriage of convenience. But those plans go awry when he rescues a madcap Italian poetess from kidnappers – a Miss Sophie Brancelli.
Will pride of honor lead to love?
Once Bellingham realizes someone means to harm Sophie to keep her from inheriting, he cannot abandon her to the perils of the mad whirl of a London Season. Although he comes to realize making her his own would protect her from harm, how could he then sail away from a loving, beautiful woman like Sophie to patrol the treacherous waters off West Africa?
Grab your copy today and embark on a journey of romance, adventure, and mystery.
Famous Book Quotes
"There is no friend as loyal as a book." ― Ernest Hemingway
View More