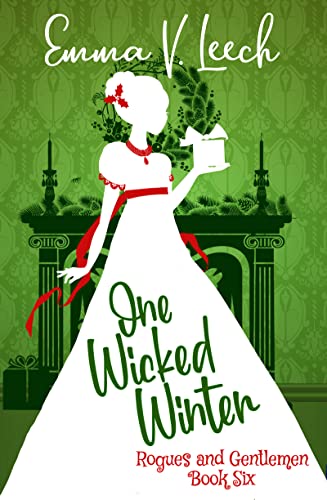 10/04/2022
One Wicked Winter
ROGUES & GENTLEMEN: BOOK SIX

Edward Greyston, Marquess of Winterbourne, is a haunted and violent man.
Blackmailed by his sister into giving a Christmas house party to celebrate her recent marriage, Edward is quite certain that the next few days will be an utter nightmare.

Nightmares, however, are something Edward is all too familiar with. After the bloody battle of Waterloo, he has returned from the war a changed man, full of rage and guilt.

⭐⭐⭐⭐⭐ "This story had it all, clever writing, witty characters, passion and intrigue." ~ Amazon customer review

The party is as he feared, but he hadn't banked on one of his house guests, the bluestocking Belinda 'Belle' Holbrook, to try and trap the unsuspecting, and quite gullible, Lord Nibley into marriage. Anticipating the worst, he tried to warn him… only to get caught by Belinda himself.

Furious, but honour bound.
Edward finds himself furious, but honour bound to do the right thing and not long after finds himself married to a woman whom he doesn't trust and knows nothing about.

More to the point, he has no intention of trying to find out more. Belle, however, is made of sterner stuff and refuses to be afraid of the angry man she married.

Somehow, she determines to melt icy Lord Winterbourne's frozen heart, and she's prepared to be wicked to do it.

The sixth book of the acclaimed Rogues & Gentlemen historical romance series from Emma V Leech, the multi-award-winning Amazon Top 10 romance writer. Author of fan favourites such as Flaming June and Last Man in London, both listed in the 20 'Romance Reads You Can't Miss' in the Amazon Kindle Storyteller Awards 2018.

**** Warning: This book contains haughtiness of the highest degree, a smattering of mild swearing and after some time and effort, a small amount of graphic and descriptive sex scenes. We are at pains to point out, however, that this book - or series – is in no way verging on erotica ****

The Rogues & Gentlemen series can be enjoyed as stand-alone novels or as part of the wider series. If the full series appeals, the suggested – but by no means essential - reading order would be:

• Book 1: The Rogue
• Book 2: The Earl's Temptation
• Book 3: Scandal's Daughter
• Book 4: The Devil May Care
• Book 5: Nearly Ruining Mr Russell
• Book 5.5: Winter's Wild Melody
• Book 6: One Wicked Winter
• Book 7: To Tame a Savage Heart
• Book 8: Persuading Patience
• Book 9: The Last Man in London
• Book 10: Flaming June
• Book 11: Charity and The Devil
• Book 12: A Slight Indiscretion
• Book 13: The Corinthian Duke
• Book 14: The Blackest of Hearts
• Book 15 Duke and Duplicity
• Book 16 The Scent of Scandal
• Book 16.5 The Christmas Rose
• Book 17 Melting Miss Wynter
• Book 17.5 The Winter Bride, a Rogues & Gentlemen Novella

Happy reading! And please do leave a review if you can – it would mean the world to hear what you enjoyed most about the book.

Famous Book Quotes
"A half-read book is a half-finished love affair." ― David Mitchell, Cloud Atlas
View More