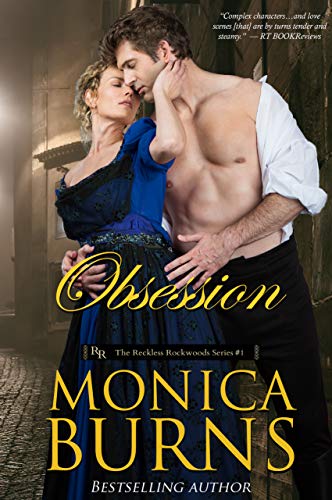 08/14/2022
Haunted by a dark secret, Sebastian Rockwood, Earl of Melton, values emotional control above all else. Unlike his younger siblings, Sebastian never yields to the famed Reckless Rockwoods family trait of impulsive, rash behavior. But his prized self-control crumbles when he spontaneously outbids a debauched libertine to save Helen Rivenall from a horrible fate. Never has the risk to his heart been so great as his treasured willpower slowly gives way to temptation, and he discovers nothing can protect him from the ultimate obsession—love.

Fleeing an abusive guardian, Helen Rivenall accepted what she thought was an offer of honest employment. Instead, she's drugged and auctioned off in a notorious London brothel. Indebted to the arrogant, inflexible earl who bought her freedom, Helen reluctantly agrees to take part in a sham betrothal. As their web of lies grows, sparks fly between the two until their passion erupts, and surrender is inevitable. But when Helen vanishes into the shadows of Jack the Ripper's London at the hands of a madman, Sebastian fears she might be lost to him forever.

WARNING: Contains a sexy, uptight, tortured hero, with a steamy romance heat level of 4 out of 5

Books In The Reckless Rockwoods Series
Book 1 — Obsession (Sebastian and Helen)
Book 2 — Dangerous (Constance and Lucien)
Book 3 — The Highlander's Woman (Patience and Julian) — Scottish setting
Book 4 — Redemption (Rhea and Percy)
Book 5 — The Beastly Earl (Louisa and Ewan) — Scottish setting

Reckless Rockwoods Novels feature different Rockwood family members who help their friends find their HEA.
Book 1 — A Reckless Rockwoods Novel: The Rogue's Offer: Reluctant Rogues #1 (Mathias and Ophelia — featuring Louisa Rockwood)
Book 2 — A Reckless Rockwoods Novel: The Rogue's Countess: Reluctant Rogues #2 (Gideon and Phoebe — featuring Constance Rockwood)

The Reckless Rockwoods series and the Reckless Rockwoods Novels are steamy Victorian historical romance books filled with suspense, intrigue, ghosts, psychics, the paranormal, villains, Highlanders, and alpha males who succumb to the love of a woman. Descended from Highlanders, this family of five Scottish, English siblings is always meddling in friends' lives to help them find their happily-ever-after (HEA). Their motto is to never refuse a challenge no matter what the reason. Whether it's scandalous passions and steamy romance, wicked, sexy seductions, wanton pleasures, or tragedy, each book focuses on the hero/heroine finding their sensually spicy HEA.

Famous Book Quotes
"If you have a garden and a library, you have everything you need." ― Marcus Tullius Cicero
View More