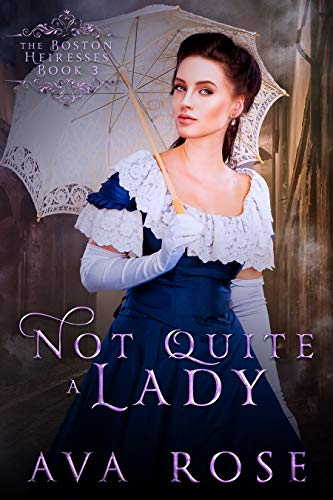 10/13/2022
She owes him everything. He wants far more than money...

Impoverished and determined to regain financial independence...
Once a member of Boston's elite, Lady Sarah Smith-Jones is determined to rebuild her independence by becoming society's most sought-after dress designer. After her father gambled away their family fortune, Sarah was left with impossible debt and ruin. Succumbing to the "Raven's" proposition for repayment is Sarah's only option. Now, this genteel lady must delve into the seedy depths of Boston's underbelly to recover a stolen ruby necklace. But does the Raven have more in mind than simply to forget a debt?

He built a fortune from the streets...
Tamworth Arbusson is far from being a lord -- despite being the illegitimate son of a duke. As owner of a slew of gentlemen's clubs, the man known as the Raven owes his fortune to ruthlessness with unpaid debts. The only thing Tam is not ruthless about is his undying attraction to Lady Sarah. Knowing his background and reputation would destroy her status as coveted designer for the elite, he's steered clear of her. Until now...

The deal that provides them both with what they need...
Together, Tam and Sarah search for the stolen heirloom. However, Tam's world is unsafe for a woman like Sarah and it is up to him to protect the only woman he's ever loved. With peril looming, Sarah must rely on a man she isn't sure she can trust. This unlikely pair must navigate a merciless world in a race to save lives as well as their hearts.

Read this story as a stand-alone, or read the series in order.

The Boston Heiresses series:
1 - Not Quite a Duchess (Anna and Pen)
2 - Not Quite a Baroness (Libby and Henry)
3 - Not Quite a Lady (Sarah and Tam)
4 - Not Quite a Princess (Mary and Bennet 1)
5 - Not Quite a Detective (Mary and Bennet 2)
6 - Not Quite a Bride (Mary and Bennet 3)

If you enjoy clean and wholesome Victorian-era historical mysteries and romance, you'll love this series by historical romance author, Ava Rose.

Famous Book Quotes
"Honesty is the first chapter of the book wisdom." ― Thomas Jefferson
View More