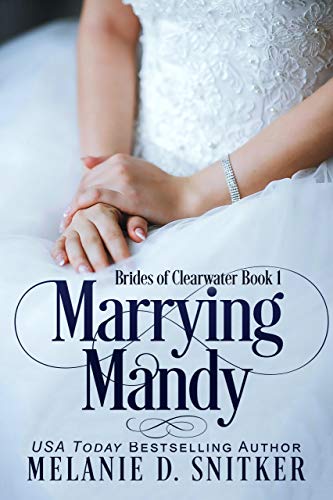 03/25/2023
A marriage of convenience might be crazy...or an answer to both of their prayers.
Mandy Hudson swore she'd never marry. Abandoned by her parents and raised by her grandparents, she has a hard time trusting that real love will last. When her grandmother dies, Mandy is shocked to discover a stipulation in the will. Considering marriage to her best friend may be the only way to keep her family's beloved bed-and-breakfast.

The loss of his job threatens Preston Yarrow's shaky financial stability. Besides, he can't watch his best friend give up the only real home she's ever known. Frustrated by Mandy's stubborn refusal to let him help, he's certain they are stronger together than they are apart.
A marriage of convenience sounds like the perfect solution until love enters the equation and complicates everything.

~*~

Welcome to the small town of Clearwater, Texas:
The perfect place to discover friends, renew your faith, and fall in love.

This is the first title in the Brides of Clearwater series. Each book can stand on its own.
However, updates about previous characters will appear in later books.

Marrying Mandy - Book 1
A marriage of convenience might be crazy... or an answer to both of their prayers.

Marrying Raven - Book 2
Raven hates football. Too bad she doesn't feel the same way about her football-playing ex-fiancée.

Marrying Chrissy - Book 3
Does Chrissy dare hope that a fake relationship could lead to real love?

Marrying Bonnie - Book 4
He's falling in love with the wrong person…his son's nanny.

Marrying Emma - Book 5
She's afraid to plan for the future…he's determined to show her love is worth the risk.
Famous Book Quotes
"She is too fond of books, and it has turned her brain." ― Louisa May Alcott, Work: A Story of Experience
View More