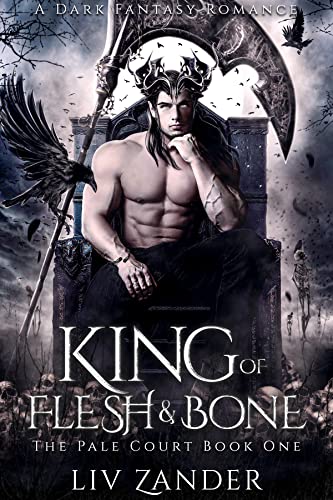 04/01/2023
Worse than a ruthless king... is a king obsessed.

Isolation, darkness, and rotting flesh,
Surrounds me, suffocates me,
But I am the vile ruler who controls it all.
I long for warmth,
Yet, all that I touch,
Is cold.

Then, she stumbles in to my domain,
Lost and frightened,
Alone and confused.

And I terrify her even more.

She calls me the devil,
So I show her pleasure,
Like only the devil can.

I am the heat that stirs her flesh,
The longing that trembles her bone.

She begs her body to refuse,
To escape my embrace,
But I am her master,
The puppeteer of passion.
I am the King of Flesh and Bone.

Welcome to my court, little one.

King of Flesh and Bone is a full-length dark fantasy novel, and book one in The Pale Court duet. The two-part story features a ruthless man, the woman who can't escape his love, and a HEA. This world contains dark themes, violence, loss, and elements of horror some may find disturbing, and readers can find more detailed information on www.livzander.com. What this book doesn't contain is a hero - because villains do it better.
Famous Book Quotes
"I cannot live without books." ― Thomas Jefferson
View More