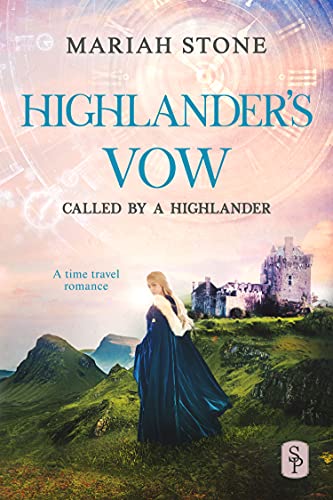 03/27/2023
She's a Highland lady, sworn to become a nun. He's a police detective thrown back in time. Can a vow of love bring them together across centuries?

Scotland, 1310. Abandoned by her betrothed nine years ago, Highlander Catriona Mackenzie vowed to join a nunnery. Her wish is about to be granted. Then Tadhg--the man she once loved—reappears, injured and in need of her healing touch.

Scotland, 2021. Oxford police detective James Murray is investigating a disappearance in Eilean Donan Castle. He's sure there's a logical explanation. But when he descends to an underground cavern, a magical rock sends him hurtling back through time to the Middle Ages.

Locked in a dark room, James is grateful to be rescued by an angelic blonde. Until she takes him prisoner. But when Catriona's brother is poisoned, James convinces her to let him help. With a killer on the loose, James won't leave his Medieval angel unprotected. He knows she's off-limits—and he'll be leaving soon—but he can't help wanting her. Torn between her confusing feelings for Tadhg, her intense attraction to James, and her sacred commitment to God, Catriona finds her life in upheaval. Giving in to the passion that burns between them would be a sin. But she has the rest of her life to do penance.


Highlander's Vow
is the sixth book in the captivating
Called by a Highlander
time-travel romance series. If you like epic historical romances, forbidden love, and suspenseful mysteries, Mariah Stone's opposites-attract romance will capture your heart and tempt you to sin!


Read
Highlander's Vow
and give in to passion today!

Over 150+ 5-star reviews on Amazon
⭐⭐⭐⭐⭐ "True love wins again! Don't Miss This Medieval Detective Mystery!"
⭐⭐⭐⭐⭐ "Don't start reading this book if you have anything else you need to get done because you will not want to put it down."
⭐⭐⭐⭐⭐ "Mariah's writing is a class alone. Thank you again for taking me back to my Highlands that I miss more than I can accurately describe."
⭐⭐⭐⭐⭐ "This is a fantastic book. The story is filled with so much emotional striving that you are constantly taken in by the feelings of all characters."
⭐⭐⭐⭐⭐ "Mariah's Highlander series is easily one of my favorite Scottish time-travel romance books, and Highlander's Vow my absolute favorite in this exceptional series."

THE CALLED BY A HIGHLANDER SERIES:
Sineag (a prequel novella)
Highlander's Captive
Highlander's Secret
Highlander's Heart
Highlander's Love
Highlander's Christmas (a novella)
Highlander's Desire
Highlander's Vow
Highlander's Bride
Highlander's Protector
Highlander's Claim
Highlander's Destiny
Famous Book Quotes
"Once you have read a book you care about, some part of it is always with you.Once you have read a book you care about, some part of it is always with you." ― Louis L'Amour, Matagorda/The First Fast Draw
View More