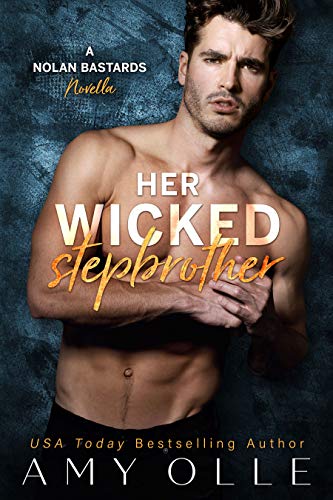 01/09/2023
From USA Today bestselling author Amy Olle comes a sexy, captivating new series, The Nolan Bastards.

My stepbrother hates me.

That's fine, because I hate him too.

I hate his crooked smile and the way he looks at me, like he's a sugar addict and I'm the last cupcake on earth. I hate that he makes me feel like I'm more than that lost little girl whose mom didn't want her, then leaves and doesn't come home again for days.

And I really, really hate that he flirts with other girls.

A lot of other girls.

But it's fine. Really, it is. Soon, he'll be leaving to attend university on the other side of the world, and I'll only have to see him on holidays and at the rare family get-together. It'll all be just fine.

As long as I don't fall in love with him.

HER WICKED STEPBROTHER is the first book in The Nolan Bastards series. It is an emotional, steamy novella with an ending that will leave you craving more.

Scroll up to one-click this sizzling Cinderella-inspired new adult romance today!

Meet the entire Nolan clan in these series by USA Today bestselling author, Amy Olle!

The Nolan Bastards

Book 1: Her Wicked Stepbrother (Aiden and Brynn ~ part 1)

Book 2: Saint (Aiden and Brynn ~ part 2)

Book 3: Warrior (Cian and Avery)

coming soon!



Book 4: King (Rory and Emerson)

coming soon!



The Nolan Brothers

Book 1: Beautiful Ruin (Noah and Mina)

Book 2: Sweetest Mistake (Luke and Emily)

Book 3: Dirty Play (Jack and Haven)

Book 4: Mad Love (Leo and Prue)


Book 5: Last Heartbreak (Shea and Isobel)
Famous Book Quotes
"Make it a rule never to give a child a book you would not read yourself." ― George Bernard Shaw
View More