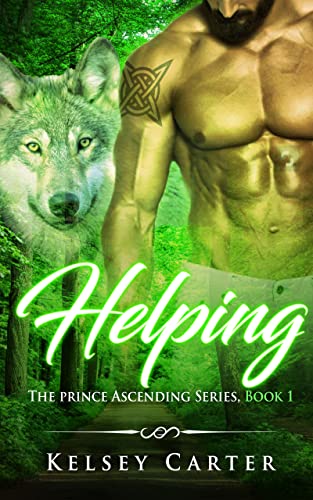 01/06/2023
There I was, driving into my parking garage, when my entire world changed. I nearly ran over the girl as she lay bleeding in the filthy alley. The lovely little lass had been set upon by a werewolf. My WORST enemy in our pack, no less....

I might have a wild Irish temper from my days growing up in Dublin, but my werewolf one is worse. That bugger is going to pay for what he did to Alanna, one way, or the other.

Yet strangely enough, his vile actions have a silver lining, for the girl is perfection, inside and out. I've envied the leader of the werewolf hunt Michael the hot passion he has with his gorgeous partner Celeste. At last, I might be that lucky myself, as I help Alanna cope with her shifting day and night.

The trouble is, she's in such turmoil after her change, I don't know if she's going to kiss me, or kill me.... And I certainly never knew I could be so primal in the lust I feel for her.

As I help stabilize Alanna's fearsome powers and get ready to introduce her to the rest of our pack, the big question is: will she want to become the mate of one of the other werewolves? Or can I convince her I'm the only Alpha male she'll ever need, in bed and out?
++
Word Count=26,914
++
Sensuality Rating
The story contains some topics, thoughts and language.

About the Author
Kelsey Carter is a paranormal romance writer, and the author of the Reconnected series, the Alpha Ascending series, the Hawk Ascending series, the Bear Ascending series, the Justice Ascending series, The Prince Ascending Series, and The Darkest Kisses series. In her spare time, she works with a range of charities, including animal rescue.

About the Prince Ascending Series
Irish werewolf Fergus's life is turned upside down when he rescues Alanna from a dark alley after she's been turned. That one act sets them on the most shocking path of mystery and adventure as he moves ever closer to his destiny: to become the prince of his clan.

Note to the Reader
The Prince Ascending series is made up of 4 books, with a cliff-hanger ending in each of the first three, and a stunning conclusion to the series at the end of the fourth. Readers who are not fond of cliff-hangers can read at their own discretion.

Digital Books

Famous Book Quotes
"Many a book is like a key to unknown chambers within the castle of one's own self." ― Franz Kafka
View More