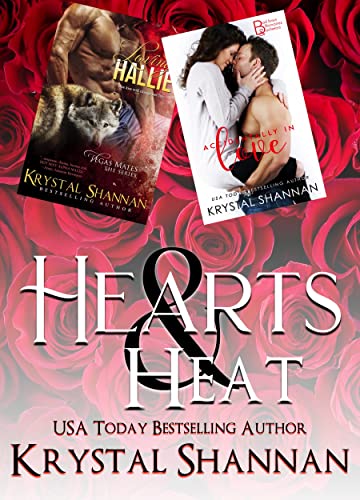 02/16/2022
Welcome to Hearts & Heat, the special Valentine Boxed Set from Fated Mate Romance Author Krystal Shannan!

Hallie Demakis is a werewolf who never thought she'd get a Happily-Ever-After. One special Valentine is waiting just for her. Enjoy this action-packed paranormal holiday romance where all her dreams come true in her book LOVING HALLIE from Krystal's Vegas Mates series.

Then jump to another world where werewolves exist, but people don't know they do. If you've read Krystal's Moonbound Wolves or VonBrandt Wolf Pack then you'll see cameo's from some of your favorite werewolf characters in this contemporary romance novel.

Laurel is a matchmaker with one rule. Never date the client, but this is one Valentine's date she just can't give to someone else. Join her emotional and heart-wrenching romance in ACCIDENTALLY IN LOVE from Krystal's Bad Boys, Billionaires, & Bachelor series.
You won't want to miss this special boxed set!
Digital Books




In simple words, Books that are set during a holiday season or celebrate something about a particular holiday comes under the Holiday genre. These types of books are purely based on the occasion; for example, books that show about some special days or festivals fall under the holiday category. But the question is, why you need to read this? The simple answer to this question is, it helps you to see how people spend their special day and how they feel about that day. These kinds of books give you positivity toward your loved ones as most books are written on Christmas. 
Famous Book Quotes
"but for my own part, if a book is well written, I always find it too short." ― Jane Austen
View More