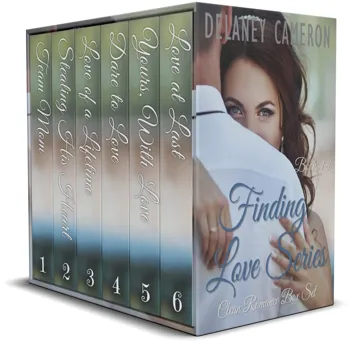 04/13/2023
Enjoy six full-length stories from the bestselling Finding Love Series. These small town, clean contemporary romances are about first love, second chances and happily-ever-afters.

Team Mom
Julie isn't thrilled that her nephew's coach is known more for his appearance on a reality dating show than for his seven years in the major leagues. Eric needs a team mom who isn't interested in becoming the next Mrs. Gibson. Can her dislike and his mistrust survive baseball season?

Stealing His Heart
When Darcy runs into her childhood crush, she's relieved that Matt doesn't remember her. Only a fool would allow a chance meeting to resurrect old feelings. He can never be more than a reminder of what she lost when she veered off the road to avoid an oncoming car. But does the heart truly forget? Or does it lock away those memories until the person comes along who has the key?

Love of a Lifetime
Faith has a decision to make. Feeling pressure from her boyfriend, family and friends, she jumps at the opportunity to get away. Her escape to the mountains isn't supposed to include waking up to find a stranger in her room. A stranger who will turn all her theories and plans upside down.

Dare to Love
When Sabrina arrives for a job interview, she never expects to run into Trent, the man who broke her heart six years ago. Four months of being unemployed is the only reason she agrees to work for him. Is falling out of love as easy as falling into it? Or is love a moment that lasts forever?

Yours, With Love
A modern retelling of Beauty and the Beast. When Ellen runs into her teenage crush, she finds a man whose life has been torn apart by tragedy and loss. How can she reach someone whose physical and emotional scars have made him stop believing in love?

Love at Last
Trying to escape the media attention of a public broken engagement, Rosemary returns to St. Marys to work on her grandmother's house. She hopes this time away will not only heal her broken heart, but will also rekindle the music inside her that has gone strangely silent. What she doesn't expect to find is someone who will turn her life upside down and make her rethink her resolve to guard her heart.

Famous Book Quotes
"Outside of a dog, a book is man's best friend. Inside of a dog it's too dark to read." ― Groucho Marx
View More