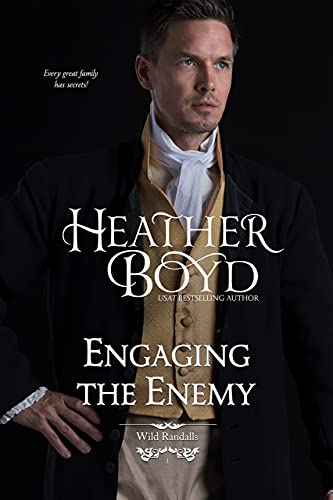 09/08/2022
Every great family has a few secrets. The wild Randalls of Hampshire excel at them.

A lady should be the image of elegance and calm, but those words have never applied to Mercy, Duchess of Romsey. A widow and mother, Mercy is lonely and floundering to keep the estate afloat. When she discovers the existence of Leopold Randall, her husband's estranged cousin, Mercy immediately offers to help him locate his missing siblings if he helps her return the estate to order.
Leopold has returned to Hampshire for only one purpose—to learn the fate of his missing siblings. Unfortunately, the current duchess is clueless and out of her depth. Her struggle tugs at Leopold's sense of duty and her bold nature tempts him unbearably. When Leopold discovers their lives are forever entwined, he vows to protect Mercy and her innocent son.
ENGAGING THE ENEMY is a full-length steamy regency historical romance from USA Today bestselling author Heather Boyd. It's the first book in the emotional four book Wild Randalls quartet.
Wild Randalls Series
Book 1: Engaging the Enemy (Leopold and Mercy)
Book 2: Forsaking the Prize (Tobias and Blythe)
Book 3: Guarding the Spoils (Oliver and Elizabeth)
Book 4: Hunting the Hero (Constantine and Rosemary)
Famous Book Quotes
"She is too fond of books, and it has turned her brain." ― Louisa May Alcott, Work: A Story of Experience
View More