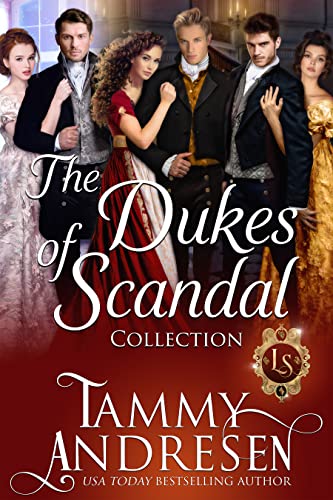 02/20/2023
These dukes are bad in all the best ways... Check out the three books that kick off each round of the Lords of Scandal series and decide for yourself, which duke is the most scintillating of them all.

Duke of Daring
The Duke of Darlington is on a mission. He needs to protect his secret gaming hell from a group of debutantes who've stumbled upon his covert business. The problem… Miss Minerva Chase is not the average lady. From the moment his compatriots assign Daring to keep watch over the fiery redhead, she begins stirring trouble. Not only is her tongue sharper than any sword he's faced but her lips are achingly soft while she tosses barb after barb in his direction. He'd like to throttle her, or kiss her, or perhaps protect the very spirit that drives him mad.

Duke of Decadence
The Duke of Decadence has a secret…Well, to be honest, Bash has several. His father, the Demon Duke, might have been the cruelest man in all of England. Bash hates his own title, the very one he inherited and all the trappings that come with it. And most secret of all, he hopes never to marry and carry on that family legacy. Which is downright scandalous for a duke to even think. But one look at Isabella Carrington and he's questioning everything. What's a beautiful fragile woman like her doing in his gaming hell and cheating? Will she ever trust him enough to find out? And to what lengths will he go to keep her safe?

Duke of Chance
This duke will chance anything…except his heart.

The Duke of Danesbury, better known as the Duke of Chance, is an unrepentant rake, a gambler, a club owner, and an all-around sinner. Which is why, taking over the gaming hell, the Den of Sins, suits him perfectly. And while he knows he'll have to marry at some point, he looks upon the institution the way some might consider having a tooth extracted. The act is to be avoided until the last possible moment. But when an opportunity falls into his lap to have the best of both worlds, marriage and freedom, it's an offer he can't refuse.

Digital Books

Famous Book Quotes
"Books are like mirrors: if a fool looks in, you cannot expect a genius to look out." ― J.K. Rowling
View More