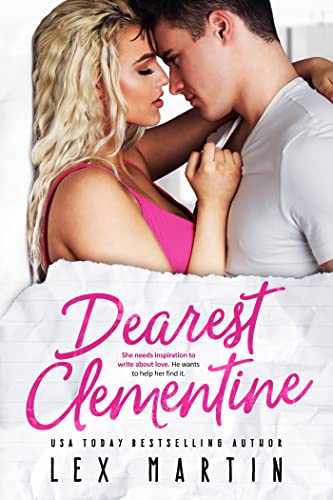 03/23/2023
From USA Today bestselling author Lex Martin comes a captivating college romance, the first in a series of companion standalones… Twenty-year-old Clementine Avery doesn't mind being called bitchy and closed off. It's safe, and after being burned by her high school sweetheart and stalked by a professor her freshman year of college, safe sounds pretty damn good.

Her number one rule for survival? No dating.

That is until she accidentally signs up for a romance writing class and needs material for her latest assignment. Sexy RA Gavin Murphy is more than happy to play the part of book boyfriend to help Clem find some inspiration, even if that means making out...in the name of research, of course.

As Gavin and Clem grow closer, they get entangled in the mystery surrounding a missing Boston University student, and Clem unwittingly becomes a possible target. Gavin tries to show Clem she can handle falling in love again, but she knows she has to be careful because her heart's at stake…and maybe even her life.

ORDER OF BOOKS (Each can be read as a standalone.):
Dearest Clementine, #1
Finding Dandelion, #2
Kissing Madeline, #3

SHAMELESS, a Dearest Series spinoff featuring Brady and Kat, is now available!

Excerpt of DEAREST CLEMENTINE, copyright 2014 Lex Martin
Gavin's grip is firm on either side of me as he ducks down to look into my eyes. Even though I lean back, I can feel his minty breath on my face.
"Clementine, I want to warn you." His voice is husky and deep. "I'm going to kiss you, and you're going to like it. A lot. But I want to be clear that I'm not going to sleep with you because I want you to respect me in the morning." His mouth lifts up in a wry smile. "This is simply one friend helping out another. Okay?"
Wait. Is he serious?
He must sense my apprehension because he rubs his thumb softly across my cheek. "It's just an exercise, to get you into your story. I promise."
I laugh, embarrassed, intrigued, and a whole lot turned on by the idea. He smiles again, but this time it's different. His eyes darken as his hands glide over my hips. My breath catches in my chest.
"Gavin, I don't think—"
He rests a finger over my lips. "I'm doing this in the name of academics. You need inspiration? You're looking at it. Now shut up and let me kiss you."
Holy. Sh**.
Famous Book Quotes
"Science and religion are not at odds. Science is simply too young to understand." ― Dan Brown, Angels & Demons
View More