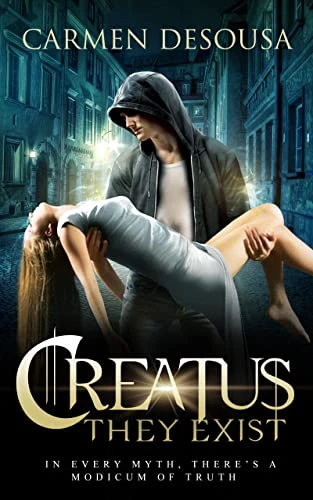 01/14/2023
Derrick's desire to save one human girl will ignite a war...

For four thousand years, creatus have concealed themselves from the humans who hunted them almost to extinction. Unwittingly, one creatus will endanger them all...

As with most of his family, Derrick Ashton knows his future and what position he's destined to fill within his unique society. Everything changes, however, when he breaks one of his family's strictest laws and falls in love -- with a human.

In his quest to protect the woman he can never have, a twist of fate propels him into a new role that will cause dissension among his family and endanger the anonymity that they've spent thousands of years protecting.

Now, he will risk everything to save the girl from humans and his own kind. The one thing he can't save her from, however...is herself.


The Creatus series is not your normal paranormal story...it's a realistic supernatural romantic suspense based on the myths you've heard your entire life. Prepare to believe...


Editorial Reviews:

⭐⭐⭐⭐⭐ "This story is completely unique, and is definitely not generic sex and vampires. In fact, I think Creatus will redefine the paranormal genre. Creatus has intrigue, suspense, romance, and tremendous depth." -- Top #50 Amazon Reviewer Vine Voice

⭐⭐⭐⭐⭐ "This book could easily classify itself as romance / mystery / suspense / thriller... I'm not a big Twilight fan, but I did enjoy the first movie... I found Creatus reminding me somewhat of Twilight, but with actors I loved." -- New York Times and USA Today bestselling author Linda S. Prather

⭐⭐⭐⭐⭐ "...well written, compassionately told, and creates characters that make you want to know them better. It is the foundation for a great series, and I believe it will be quite popular." -- Sweet Mystery Books.

Bonus Material! This special-edition box set includes the prequel: Creatus (They Exist), Creatus Book One, and a sneak peek at Creatus Rogue.

Famous Book Quotes
"I do things like get in a taxi and say, "The library, and step on it." ― David Foster Wallace, Infinite Jest
View More