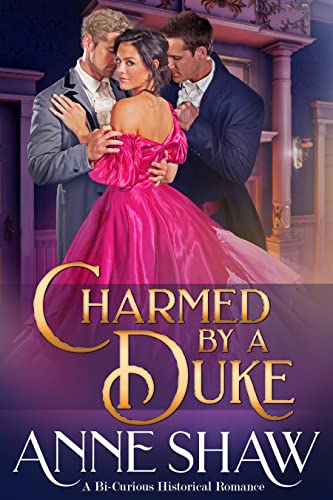 04/05/2023
Lord Kendrick, Duke of Alton—I was born a duke but my passion lies in clay and marble. Straddling two worlds, I have put my heart and soul into my art. After my spinster neighbor catches me in a compromising position with a male lover, Sir Colt Lawrence recommends I do the obvious, marry her or risk scandal.

Sir Colt Lawrence—I have been enamored of Lord Kendrick since the moment I set eyes on him. As his personal secretary, I must hide my secret passion for him. When he tells me of his dilemma with Lady Lillian, I boldly suggest he marry the lady to assure her silence.

Lady Lillian Tapper—Bookish and awkward in my manner, my true talent lies in storytelling. I worked diligently on a gothic novel, only to have it turned down by twenty-nine publishers. Desperate, I find a publisher interested in my book, but with one catch. He wants me to write a libertine book full of sin and vice. I don't know how to begin, but my new fiancé can help.

Despite Lady Lillian's attempts to blackmail the duke, there is something about her that tugs at his heartstrings. Too soon, he isn't only in love with Lillian, but Colt as well.

Famous Book Quotes
"My Best Friend is a person who will give me a book I have not read." ― Abraham Lincoln
View More