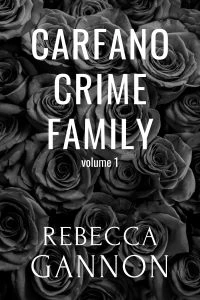 02/20/2023
A dark mafia romance bundle containing Carfano Crime Family books 1-4:
Casino King: A Dark Mafia Romance
Tessa became my obsession the moment I saw her. I've watched her dance in my casino's show every week, keeping my distance until she needed me. She doesn't know who I am or what I'm capable of, but she'll soon find out just how far I'll go to keep her safe. Nothing will stop me from keeping the one thing in my life that makes me feel anything good.

The Boss: A Second Chance Mafia Romance
Abrianna was the light in my dark world. An angel I never deserved. And after five years of depriving myself of her, one look into her eyes has me forgetting any plan I thought I had of staying away longer. Being together has the potential to destroy the both of us and the family names we bear, but I'm not giving her up a second time...

Vengeance: A Dark Kidnapping Mafia Romance
The mission was clear - get in and get out. We were there for the man who had our father killed, not her. But when I found her locked in her room, I decided to take her too...

Executioner: A Dark Forbidden Mafia Romance
I was never supposed to want her. Her father took me in when I was thirteen and turned me into the ruthless man I am today. He told me to stay away from her, but she's the only reason I'm still here. I live for her. I breathe for her. I do what I do for the family for her. And I'll keep doing whatever is needed to make sure she's safe. And mine.

Famous Book Quotes
"The love of learning, the sequestered nooks, And all the sweet serenity of books" ― Henry Wadsworth Longfellow
View More