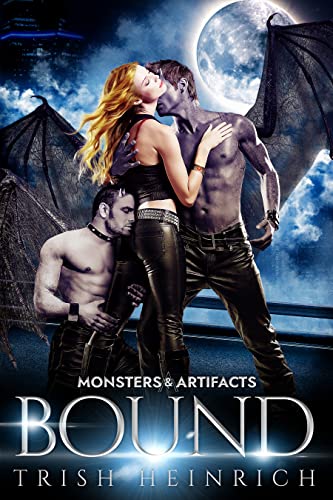 04/10/2023
Two hot Gargoyles. One serial killer. And the worst case of being hard up you've ever seen.
No, I'm not hot for the criminal, just the two Gargoyles I have to work with to catch him.
One of these guys broke my heart twelve years ago. The other is my partner with the Supernatural Branch of the Seattle PD. Both should be off limits but my body isn't getting the message.
When the three of us go undercover at a local 'den of iniquity' to catch the killer, all the lines get blurred. Now I'm on the brink of falling for not one, but two growly Gargoyles.
If this goes sideways, getting carved up by a Jack the Ripper copycat will be the least of my worries.
Warning: Bound is a standalone monster romance. It has a Daddy Dom Gargoyle, a cinnamon roll sub Gargoyle, 'fun' with food, fights that turn into something else, and a chilling murder mystery. It is intended for mature audiences. CW include: death of a parent in the past, stalking in the past, abuse by a partner in the past, graphic crime scenes & some depictions of alcoholism. This book has much darker themes than previous books in the series. Please consider this before reading.
Famous Book Quotes
"There is no mistaking a real book when one meets it. It is like falling in love." ― Christopher Morley, Pipefuls
View More