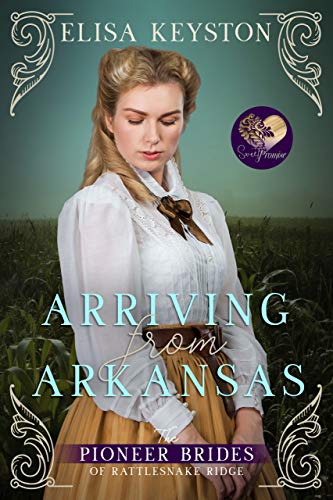 09/03/2022
Will this couple's secrets cause them to miss their chance at a happily-ever-after? Read FREE in Kindle Unlimited to find out!

Josephine Lane arrived in Rattlesnake Ridge under false pretenses. As far as the townspeople know, she's simply the new cook for the local boarding house.

Nobody knows about the hidden truth that could make her the wealthiest person in the state of Nevada.

Jim Griffin works hard as a foreman at the local lumber mill. He also works hard to keep his real identity as an undercover lawman hidden as he closes in on his brother's murderer. When the killer gets close, the last thing Jim needs is a distraction – especially the pretty blonde cook at the boarding house.

Jim and Josie's secrets just might bring them closer than either could have predicted. But will they be able to resist falling in love when so much is already at stake for the both of them?

If you like historical romance with a touch of intrigue, then you'll love Arriving from Arkansas. Get your copy and get lost in the entire Pioneer Brides historical romance series today.

Famous Book Quotes
"Think before you speak. Read before you think." ― Fran Lebowitz, The Fran Lebowitz Reader
View More