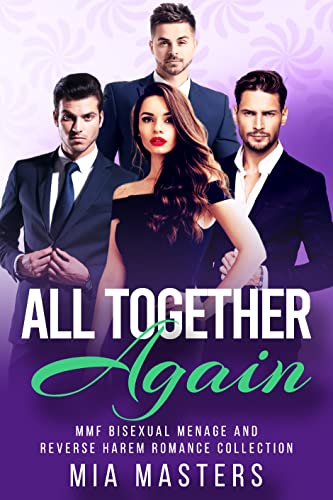 03/27/2023
My three bosses want me to work triple time for them.
A HUGE collection of 14 HOT bisexual reverse harem and menage romance books!

My romantic life has always been a little bland. In fact, I'm still a virgin. So, when I get a new job and one of my three hot billionaire bosses flirts with me, I start to think things are finally starting to get exciting.

They become a little too exciting when my two other hot billionaire bosses do the same thing! And things get more than a little confusing when it seems all three bosses are into each other, too.

Are they a gay throuple? And does their bed have room for one more, even though I'm a woman? Because I want to spend the night in between their hard, muscular bodies, while all of us are hard at work making each other feel amazing all night long. Yet that could definitely cause problems in the office during the day!

What happens when business and love (times three!) intertwine?
Will I be able to work things out without losing my job?!

Find out by reading this box set collection, All Together again, which includes the books Between the Models, Between the Lawyers, Between the Billionaires, Between the Rockstars, Four Father's Day Dates, Four Snowed In, Four Riding Hard, Four in Trouble, Sharing Brandy, Three Locked In, Three in Quarantine, Three Roommates, Take Three, and Take Four. In total that's fourteen hot bisexual romance books!

All books include m/m, m/f, and m/m/f action and romance. Swords cross... a lot!

These reverse harem and menage romance books have no cliffhangers and no cheating, but they do have a happily ever after... in the bedroom and for the rest of their lives... for the two or more hot, well-hung alpha males and the one lucky, curvy lady involved with each set of them.

And of course, these stories have plenty of steam to heat up your summer and your fantasies even more!

Famous Book Quotes
""There is no mistaking a real book when one meets it. It is like falling in love."" ― Christopher Morley, Pipefuls
View More