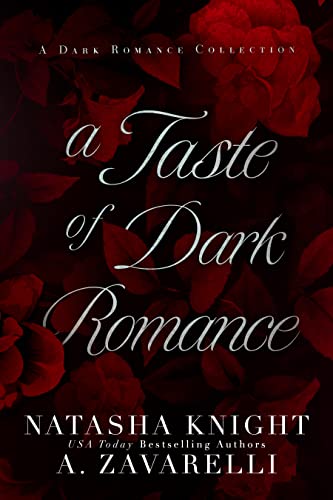 02/14/2023
A Taste of Dark Romance contains Requiem of the Soul, His Rule and Mine. These are all full-length series starters and will welcome you into the worlds created by A. Zavarelli and Natasha Knight. You can expect dark and twisted with a whole lot of spice, a Secret Society entrenched in secrets, and a peek into the world of the Russian mafia.

Requiem of the Soul

I was born with noble blood in my veins.

Heir to a powerful dynasty.

Wealth. Power. Aristocracy.

Temptations too dangerous to resist.

Until someone tried to steal it all.

Scarred and broken, I emerged from the flames.

Now I've returned to take what's mine.

Revenge.

The first item on my agenda?
Make Ivy Moreno my wife.

Second?
Bend her until she breaks.

His Rule

I live in a world where secrecy reigns.

A Society rooted in power, wealth, and long-held dynasties.

Where men are Kings, and women are pawns.

For as long as I can remember, I've dreamt of escaping the shackles of my expectations.

But it can only ever be a dream.

I made a fatal mistake, and those shackles became a cage.

Now I'm trapped in a war with a man who controls my every move.

He's my brother's best friend.

My enemy, my tormentor, and my solace.

His words have the power to wound me.

His touch just might break me.

But this is his kingdom, and as long as I'm here I only have one choice.

I'll play by his rules.

Mine

She was never supposed to walk into my club.
But she did.

I shouldn't have looked twice at her.
But I did.

The criminal underworld is no place for a girl like her.

One night with Katerina isn't enough, but men like me can't afford to be weak.
So, I tell her to leave me behind.

She does, but not before she sees something she shouldn't.

When she goes into hiding, it's my duty to hunt her down.
I have a job to do, and she needs to disappear for good.

But four years later, Kat isn't alone anymore.
And the little boy right beside her looks just like me.

Digital Books

Famous Book Quotes
"Be careful about reading health books. Some fine day you'll die of a misprint." ― Markus Herz
View More