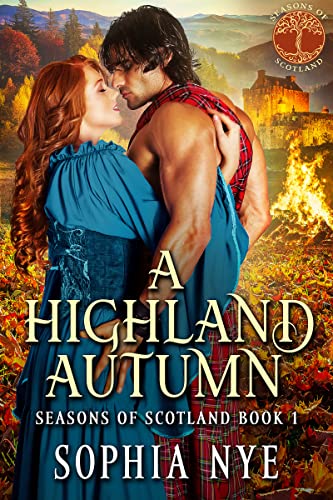 06/11/2022
"Captivating from start to finish." -Amazon Reviewer
"A Highland Autumn twists and turns its way to a very satisfying conclusion." -Amazon Reviewer
When a no-nonsense Highlander afraid to love...
The last thing Ronan Calder needs is marriage. He's got enough to worry about without a wife. His sister and mother both died in childbirth, and he has no interest in reliving such tragedy. If he could convince his father as much, everything would go according to plan.
Unfortunately, his brutish father insists on parading potential wives before him as often as he can arrange it. Not once has a single simpering lass captured his attention. Not once, that is, until Ronan mistakes the clan's new scholar for his father's latest attempt to sway him to marry.
Meets the only woman who's ever tempted him...
There is absolutely no way Adelina is giving up on her dreams. She's going to be the first female scholar at Oxford, or die trying. And no, she's not overly dramatic if that's what you're thinking. When Adelina lands a post in some far-fetched corner of war-torn Scotland, murder and treason are very real threats to Adelina and Clan Calder.
To complicate matters further, the beastly laird has a distractingly dashing son who won't leave her alone. It makes the stress of her new position a lot easier to take, what with all the kissing, but it's also interfering with her ability to prove her skills as a scholar.
Their love threatens to destroy everything.
Can Adelina take the heat, find the traitor, and save the laird to earn her seat at Oxford? Or will Ronan prove too great a distraction?
Digital Books

Famous Book Quotes
"Good books don't give up all their secrets at once." ― Stephen King
View More