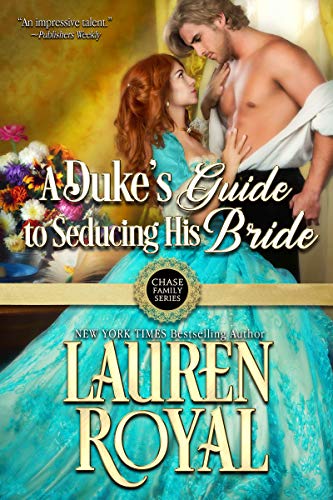 06/05/2022
♥ A highwayman who is also a duke…in a kilt!
♥ A close-knit, meddling family
♥ A forced marriage
♥ A treasure hunt
♥ Steamy romance!
Another captivating romance featuring New York Times bestselling author Lauren Royal's "outrageously funny, loyal, compassionate, and unconventional" Chase family!
Lady Kendra Chase's brothers insist it's high time she wed. But although they've presented her with many wealthy, titled suitors, no man has caught her fancy—until her coach is held up by a dashing, mysterious rogue. When she and the scoundrel are caught in a compromising embrace and her overprotective brothers demand they marry, Kendra cannot believe it. Are they really desperate enough to match her with a highwayman?
Scottish-born Patrick "Trick" Caldwell is the Duke of Amberley—and also the notorious Black Highwayman, an identity he has assumed in order to avenge past wrongs and serve his king. But his already complicated life becomes positively convoluted when he finds himself compelled to marry a red-headed temptress he's only just met. Caught in a web of secrets and half-truths, will Trick be forced to choose between his duty to the Crown and the woman who's destined to steal his heart?
PLEASE NOTE: This book was formerly titled "Amber."
Book Details
A complete, standalone story—no cliffhangers!
Series: Chase Family Series, Book 4
Style: Humorous historical romance
Length: 118,000 words (about 475 standard pages)
Bonus Material: Author's Note, preview of next book, link to giveaway
R-rated Content: Steamy love scenes!*
* If you'd prefer to read a Sweet & Clean (kisses only) version of this story, look for "The Duke's Reluctant Bride" by Lauren Royal & Devon Royal.
Awards
• Top 10 Bestseller on Amazon, Apple Books, Barnes & Noble, Google Play, and Kobo
• A Booklist Top Ten Romance of the Year
• Winner of the Romantic Times K.I.S.S. Award for Best Romantic Hero
Reviews
"A captivating historical romance. Fans of Julia Quinn and Tessa Dare will love Lauren Royal!"
—Glynnis Campbell, USA Today Bestselling Author
"Lauren Royal sweeps readers up into the 17th century, bringing all the excitement and glamour of the Restoration to life with her colorful characters, vivid backdrop, and passionate romance."
—Romantic Times
"An impressive talent!"
—Publishers Weekly
"A passionate tale...fast-paced and filled with action from the very first page to the climax."
—Midwest Book Review
Connecting Books
While A Duke's Guide to Seducing His Bride can be read as a stand-alone novel, many readers enjoy reading it as part of a series. All of Lauren's books feature Chase family members. Should you wish to read them in chronological order, this is the sequence:
Chase Family Series
When an Earl Meets a Girl
How to Undress a Marquess
If You Dared to Love a Laird
A Duke's Guide to Seducing His Bride
Never Doubt a Viscount
The Scandal of Lord Randal
A Gentleman's Plot to Tie the Knot
A Secret Christmas
A Chase Family Christmas
Chase Family Series: The Regency
Tempt Me at Midnight
Tempting Juliana
The Art of Temptation
New in 2021
Alice Betrothed
Specially Priced Boxed Sets
Chase Family Series: Collection One
Chase Family Series: Collection Two
Chase Family Series: The Regency Collection
Digital Books

Famous Book Quotes
"That's the thing about books. They let you travel without moving your feet." ― Jhumpa Lahiri, The Namesake
View More