20 April, 2023 By Chelsea Parker
The Top 10 Enemies to Lovers Books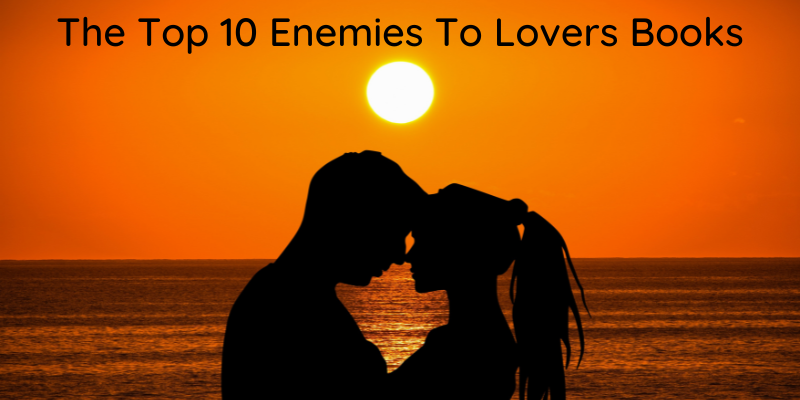 A Literary Journey of Passion and Redemption
In the world of romance novels, there's a trope that has captured the hearts of readers for decades: enemies to loverss. This tantalizing, slow-burn romance between sworn adversaries who ultimately find love and redemption in each other's arms has an irresistible allure. The transformation of hostility into passion and the ultimate reconciliation of differences make these stories both compelling and satisfying.
In this blog post, we'll dive into the top 10 enemies to lovers books, exploring the fiery clashes and tender moments that make these novels so captivating. Grab a cup of tea, snuggle under your favorite blanket, and let's embark on this literary journey of passion and redemption.
Pride and Prejudice by Jane Austen
No list of enemies to lovers books would be complete without the timeless classic, Pride and Prejudice. Written by Jane Austen and first published in 1813, this beloved novel tells the story of Elizabeth Bennet and Mr. Darcy, whose initial impressions of each other are far from favorable. As the story unfolds, their misunderstandings, misconceptions, and prejudices are slowly peeled away, revealing a deep and abiding love that has endured the test of time.
The biting wit, unforgettable characters, and expertly crafted narrative have made Pride and Prejudice a staple of English literature. It's not only a powerful exploration of social norms and expectations in Regency-era England, but also a masterful portrayal of the enemies-to-lovers romance that has inspired countless adaptations and retellings.
The Hating Game by Sally Thorne
The Hating Game is a deliciously witty and entertaining contemporary romance novel that expertly captures the enemies-to-lovers trope. In this story, Lucy Hutton and Joshua Templeman are executive assistants to co-CEOs of a publishing company, and they absolutely detest each other. Their daily interactions are filled with snark, sarcasm, and bitter competition.
As the two are pitted against each other for a promotion, their animosity reaches new heights, but so does their undeniable attraction. Author Sally Thorne masterfully weaves a tale of emotional vulnerability, steamy chemistry, and laugh-out-loud humor, making The Hating Game a must-read for fans of enemies-to-lovers romances.
The Cruel Prince by Holly Black
The Cruel Prince is the first book in Holly Black's thrilling and darkly enchanting Folk of the Air series. This captivating fantasy novel follows the story of Jude, a mortal girl who has been raised in the treacherous world of Faerie. Despite her determination to prove herself as a formidable force, she finds herself at odds with Prince Cardan, the youngest and wickedest son of the High King.
Their mutual hatred and desire for power set the stage for a gripping tale of political intrigue, betrayal, and heart-pounding romance. The Cruel Prince is a stunning example of an enemies-to-lovers story set within a richly imagined fantasy world, making it a must-read for fans of the genre.
The Unhoneymooners by Christina Lauren
The Unhoneymooners is a hilarious and heartwarming romantic comedy that explores the age-old question: can two sworn enemies find love in the unlikeliest of circumstances? When food poisoning strikes their siblings' wedding, Olive Torres and Ethan Thomas find themselves the only healthy guests left standing. Offered the chance to enjoy the all-expenses-paid honeymoon in their stead, they reluctantly agree to set aside their mutual animosity and embark on a trip to paradise.
As Olive and Ethan navigate their way through a series of comedic mishaps and unexpected encounters, they discover that their initial dislike for each other might just be masking a powerful attraction. With its sparkling banter, vivid characters, and irresistible chemistry, The Unhoneymooners is a delightful enemies-to-lovers romance that will leave readers swooning.
From Lukov with Love by Mariana Zapata
In From Lukov with Love, Mariana Zapata serves up a slow-burning and heartfelt romance set in the competitive world of figure skating. Jasmine Santos has spent her entire life training for her moment of glory, only to have it slip away when her skating partner abandons her. When her greatest rival, the infuriatingly handsome and talented Ivan Lukov, offers her a chance to partner with him for a year, Jasmine has no choice but to accept.
As they train together, the initial animosity between them slowly melts away, revealing a deep and unexpected connection. With its vivid portrayal of the world of figure skating and a beautifully developed enemies-to-lovers romance, From Lukov with Love is a captivating and emotional read.
The Bridge Kingdom by Danielle L. Jensen
The Bridge Kingdom is an epic fantasy romance that weaves together a tale of political intrigue, adventure, and a slow-burning enemies-to-lovers romance. Lara, a skilled assassin trained since childhood, is sent to marry the king of the rival kingdom under the guise of a political alliance. Her true mission, however, is to infiltrate and destroy her new husband's realm from within.
As Lara gets to know her husband, Aren, she discovers that the enemy she's been trained to hate is not the monster she's been led to believe. The Bridge Kingdom is a thrilling and beautifully crafted story that will keep readers enthralled from beginning to end.
The Viscount Who Loved Me by Julia Quinn
The second book in Julia Quinn's beloved Bridgerton series, The Viscount Who Loved Me, tells the story of the eldest Bridgerton sibling, Anthony, and his unexpected romance with the fiery Kate Sheffield. Determined to fulfill his duty and marry for the sake of his family, Anthony has no intention of falling in love. However, when he meets Kate, their mutual dislike quickly evolves into something much more powerful.
With its witty banter, engaging characters, and sizzling chemistry, The Viscount Who Loved Me is a delightful Regency-era romance that showcases the enemies-to-lovers trope to perfection.
You Deserve Each Other by Sarah Hogle
In You Deserve Each Other, Sarah Hogle delivers a refreshingly original and laugh-out-loud funny take on the enemies-to-lovers trope. Naomi Westfield and Nicholas Rose are engaged, but as their wedding day approaches, they find themselves questioning their love and compatibility. Instead of discussing their concerns, they engage in a passive-aggressive battle to see who can drive the other to call off the wedding first.
As their antics escalate, they unexpectedly rediscover the reasons they fell in love in the first place. With its clever premise, snappy dialogue, and poignant moments, You Deserve Each Other is a delightful and heartwarming romance that will leave readers smiling.
Beach Read by Emily Henry
Beach Read is a charming and heartfelt enemies-to-lovers romance set against the backdrop of a sleepy beach town. January Andrews, a romance writer, and Augustus Everett, a literary fiction author, are both struggling with writer's block when they find themselves neighbors for the summer. Despite their mutual dislike, they strike a deal to help each other overcome their creative ruts by swapping genres and pushing their boundaries.
As they spend the summer exploring new literary territory, they also discover an undeniable connection that transcends their initial animosity. With its engaging characters, beautiful prose, and emotional depth, Beach Read is a captivating and heartwarming story that showcases the transformative power of love and understanding.
Red, White & Royal Blue by Casey McQuiston
Red, White & Royal Blue is a delightful and heartwarming LGBTQ+ enemies-to-lovers romance that explores the relationship between the First Son of the United States, Alex Claremont-Diaz, and the Prince of Wales, Henry.
After a disastrous encounter at a royal wedding, the two are forced into a fake friendship to mitigate the potential international scandal. As they spend more time together, their initial animosity gives way to a deep and powerful connection that transcends their differences and the weight of their responsibilities.
With its engaging characters, razor-sharp wit, and swoon-worthy romance, Red, White & Royal Blue is a captivating and timely exploration of love, politics, and the power of understanding.
Enemies-to-lovers romances provide readers with a thrilling and satisfying journey, as we watch characters overcome their differences, tear down their walls, and ultimately find love and redemption in each other's arms. These ten books, spanning genres from Regency-era romance to epic fantasy, showcase the incredible diversity and depth of stories that can be told within this beloved trope.
So, whether you're new to the world of enemies-to-lovers romance or a seasoned aficionado, these books are sure to captivate and enchant you with their engaging characters, compelling stories, and unforgettable love stories. Delve into these worlds of passion and redemption, and discover the transformative power of love that transcends even the most bitter of rivalries. Happy reading!