16 April, 2023 By Chelsea Parker
Colleen Hoover Books in Order: A Comprehensive Guide to the Bestselling 19 Novels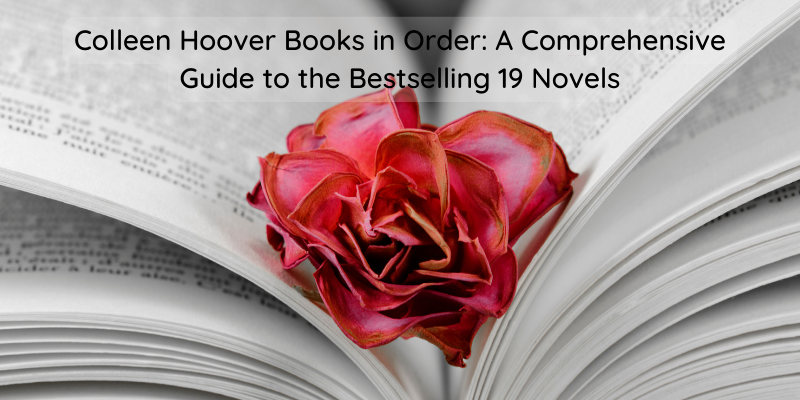 Colleen Hoover Books in Order
Hello and welcome to your comprehensive resource for the fascinating world of Hoover books! We'll examine this bestselling author's books in order of publication in this post, along with brief summaries of each book. The novels by Hoover are praised for their gripping narratives, unvarnished emotions, and endearing characters that keep readers interested from beginning to end. This guide will provide you all the information you need about Hoover's books and make it easier for you to choose which ones to read first, whether you've been a fan for a long time or are just beginning to read and want to get into her captivating tales.
Slammed (2012)

An emotionally charged love story that revolves around Layken, an 18-year-old who moves to a new town following her father's death. She falls for her captivating neighbor, Will, a passionate slam poet with a tragic past. As their relationship blooms, they face a life-altering secret that threatens to tear them apart and tests the strength of their love.
Point of Retreat (2012)

In this sequel to Slammed, Layken and Will's relationship faces new challenges as they navigate life's unexpected twists and turns. As they deal with personal and familial issues, their commitment and resilience are put to the test. The story delves deeper into their bond as they learn the importance of trust and communication in overcoming obstacles.
This Girl (2013)

The third installment in the Slammed series, This Girl provides a fresh perspective on the events of the previous books by telling the story from Will's point of view. This retelling allows readers to gain deeper insight into his thoughts and emotions while also revealing new aspects of Layken and Will's story that were previously untold.
Hopeless (2012)

Sky, a high school senior with a tragic past, faces a life-changing encounter when she meets the enigmatic Dean Holder, a boy with secrets of his own. As they fall for each other, buried truths surface, forcing them to confront their pasts and the darkness that threatens their future together. This heart-wrenching tale explores themes of love, loss, and the power of forgiveness.
Losing Hope (2013)

This companion novel to Hopeless offers a fresh perspective on the story by providing a deeper understanding of Dean Holder's emotions, motivations, and secrets. Told from his point of view, readers witness his struggles with guilt, grief, and hope as he navigates his relationship with Sky and comes to terms with his past.
Finding Cinderella (2013)

In this novella companion to Hopeless and Losing Hope, Daniel, Holder's best friend, takes center stage as he embarks on a quest to find his own Cinderella. After a chance encounter with a mysterious girl in a dark maintenance closet, Daniel becomes determined to find her again, leading him on a journey of love, self-discovery, and the importance of taking chances.
Maybe Someday (2014)

Sydney, heartbroken after discovering her boyfriend's infidelity, forms a deep connection with her mysterious neighbor, Ridge. As they create music together, their undeniable chemistry builds, forcing them to confront their complex feelings and the challenges that come with pursuing love in difficult circumstances. This emotionally charged novel explores themes of love, betrayal, and the power of music.
Ugly Love (2014)

Tate Collins and Miles Archer agree to a no-strings-attached relationship, determined to keep their emotions in check. As they become entwined, the boundaries between casual and something deeper blur, leading them on a whirlwind of emotions. This raw and passionate story delves into the complexities of love, forgiveness, and the weight of the past.
Confess (2015)

Auburn, a young woman struggling to rebuild her life, becomes entangled with Owen, a talented and secretive artist. As they grow closer, Owen's confessions through his art begin to reveal the secrets that could shatter Auburn's world. This captivating novel explores themes of love, sacrifice, and the power of truth.
November 9 (2015)

Fallon and Ben embark on an unconventional love story, agreeing to meet only on November 9th each year. As they document their evolving relationship and life changes, they discover the transformative power of love and the unforeseen consequences of their choices. Their journey culminates in the uncovering of a shocking truth that changes everything.
It Ends with Us(2016)

A powerful and poignant tale about Lily, who must confront her past and make life-altering decisions about her future as she finds herself torn between her first love, Atlas, and her husband, Ryle. This emotionally charged story tackles the difficult subject of domestic abuse and showcases the strength it takes to break free from destructive cycles.
Too Late (2016)

Sloan is trapped in an abusive relationship with her boyfriend, Asa, and finds solace in her friendship with the kind and understanding Carter. As their connection deepens, Sloan is forced to question her choices and face the consequences of her actions. This gripping story explores themes of love, loyalty, and the courage it takes to escape toxic situations.
Without Merit (2017)

Merit, a girl from a highly dysfunctional family, confronts her secrets and learns to accept her flaws while navigating her complicated relationships and finding her own path to happiness. This thought-provoking novel highlights the importance of self-discovery, forgiveness, and the power of communication in overcoming family issues.
All Your Perfects (2018)

Quinn and Graham, a married couple struggling with infertility, face the impact it has on their relationship as they fight to hold onto their love and rediscover the magic that brought them together. This emotional and heart-wrenching tale delves into the complexities of marriage, the pain of unfulfilled dreams, and the power of resilience.
Verity (2018)

Lowen, a struggling writer, uncovers a hidden manuscript with dark secrets about the life of Verity Crawford, a successful author. As Lowen becomes entangled in a web of deception and obsession, she's forced to confront her own fears and desires. This chilling psychological thriller keeps readers on the edge of their seats, questioning the boundaries between truth and fiction.
Regretting You (2019)

Morgan and her teenage daughter, Clara, navigate grief, betrayal, and family secrets as they struggle to heal their fractured relationship and find their way back to each other. This moving story delves into the complexities of motherhood, love, and loss, while illustrating the healing power of forgiveness and the importance of self-discovery.
Heart Bones (2020)

Beyah, a girl with a difficult past, and Samson, a boy with his own demons, find solace in each other as they learn to let go of their pasts and embrace the possibilities of love and happiness. This touching novel explores themes of trust, hope, and the transformative power of love in overcoming adversity.
Layla (2020)

Leeds falls in love with Layla, but after a tragic incident, he becomes torn between his love for her and the mysterious girl who appears, forcing him to make a life-changing decision. This paranormal romance delves into the supernatural world and explores the complexities of love, trust, and the importance of following one's instincts.
Reminders of Him (2022)

Kenna, a young woman released from prison, is determined to reconnect with her daughter, only to face challenges from her past, and her growing feelings for Ledger, the man who holds the key to her future. This heartrending story explores themes of redemption, forgiveness, and the power of love in overcoming the obstacles that life presents.
Here are the links to Colleen Hoover's author pages on the mentioned online platforms:
Remember that not all of her books may be available on every platform, so it's a good idea to browse through the selections and compare availability before making a purchase.
With this comprehensive list of books in order, complete with a brief synopsis of each novel, you're all set to embark on an emotional and riveting journey through her unforgettable stories. Each book has its unique charm and appeal, and Hoover's masterful storytelling is bound to capture your heart. Whether you choose to read them in order or pick and choose based on your preferences, you're guaranteed a memorable reading experience.
So, what are you waiting for? Dive into the spellbinding world and prepare to be swept away by her powerful storytelling and captivating characters!