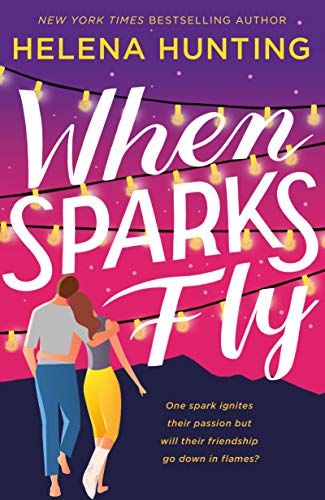 05/05/2022
Charming, hilarious, and emotional...When Sparks Fly is Helena Hunting at her very best!

Avery Spark is living her best life. Between her friends, her sisters, and Spark House, the event hotel her family owns, she doesn't have much time for anything else, especially relationships. She'd rather hang out with her best friend and roommate, Declan McCormick, than deal with the dating scene. But everything changes when she is in a car accident and needs someone to care for her as she heals.

Declan avoids relationships, giving him a playboy reputation that he lives up to when he puts a one-night stand ahead of a promise he made to Avery. While he may not have been the one driving the car, he feels responsible for Avery's injuries and is determined to make it up to her by stepping into the role of caretaker.

Little did they know that the more time they spend in compromising positions, the attraction they've been refusing to acknowledge becomes impossible to ignore. When they finally give in to the spark between them, neither is prepared for the consequences. Their love is fragile and all it will take is a blow from the past to shatter it all.

Books in the contemporary fiction genre are composed of stories that may happen to real people in actual settings. The novels don't fall under other genres or categories. They often happen in precisely the same period that the reader is living (the present), with things that are now, or might be occurring, precisely the same period. The contemporary genre also contains conversational and casual dialogue and sometimes even regional dialects. Contemporary fiction novels will provide you a lot of choices to grow your life reading list. Writers, generally speaking, search for what's trending in their own time for their literary work since it lets them illuminate the weakness or strength of the society.
Famous Book Quotes
"Of course I loved books more than people." ― Diane Setterfield, The Thirteenth Tale
View More