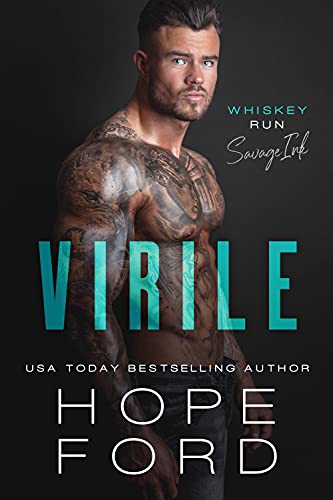 04/09/2022
I'd be a fool to let her leave without putting my mark on her.
I'm happy with my life and my booming tattoo business. I thought I had it all until the night Gracie Franklin arrived at the shop asking for a tattoo. Then I realized exactly what I'd been missing. She was everything I could ever want in a woman and I couldn't just let her go. I broke the cardinal rule that night – I touched a client - but I couldn't keep my hands off her.
After one night, I started thinking about our future but I never dreamed that she would leave me and Whiskey Run. I spent nine months searching for her and when she showed back up, she had the surprise of a lifetime for me. Now, I'm going to do whatever it takes to protect my woman, my baby and our future.
Virile is the first book in the Whiskey Run: Savage Ink Series. If you love age gap, alpha men, secret baby, and second chance romance, then you'll love Aiden and Gracies story.
Books in the contemporary fiction genre are composed of stories that may happen to real people in actual settings. The novels don't fall under other genres or categories. They often happen in precisely the same period that the reader is living (the present), with things that are now, or might be occurring, precisely the same period. The contemporary genre also contains conversational and casual dialogue and sometimes even regional dialects. Contemporary fiction novels will provide you a lot of choices to grow your life reading list. Writers, generally speaking, search for what's trending in their own time for their literary work since it lets them illuminate the weakness or strength of the society.
Famous Book Quotes
"Literature is a luxury; fiction is a necessity." ― G.K. Chesterton
View More