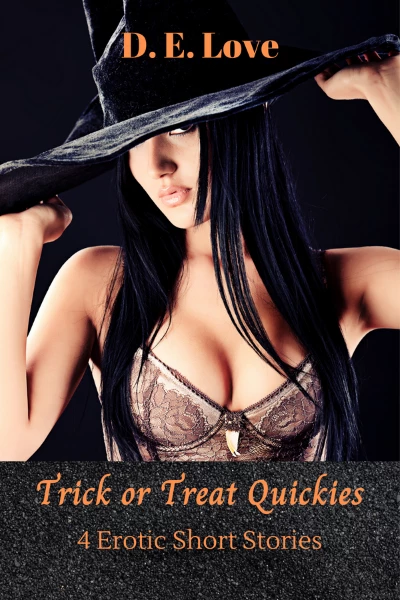 10/30/2022
She got stood up on Halloween...

...even though she was dressed to kill.

Well maybe not kill. She did have on angel wings and a halo. And a lot of bare skin. She was a sexy angel which meant she intended to save Travis's sexual soul.

When Travis did finally show up dressed as a sexy masked devil, she didn't know whether she should dump him or jump him. He looked good and had a hotel key. So why not take the elevator to heaven where she could show him her angelic treats and find out if his devilish tricks were as promised.

Trick or Treat Quickies is 4 salacious short stories guaranteed to entice some tricks and treats from you.

You will enjoy:
1. The Devil is in the Details, a story about a masquerade party and an angel who was almost completely stood up and the tricks and treats she and her devilish date explore in a hotel bedrrom.
2. Spectrophilia - A story about a ghostologist, Tara Craft, who is keen on finding a legendary ghost, Daxton Chastaine, who only appears every 25 years at his rundown southern plantation. Stories also say that he seems to enjoy the company of women on his visit to the material plane, which is where Tara's interests and desires lie anyway.
3. Stronger than Wine - A story about a divorcee, Brittany, alone on Halloween night, who suddenly gets a late night visit from a cul-de-sac neighbor, Lincoln Cooper. Little does she know what is in store for her when she invites Lincoln, in his vampire costume, into her house. Some spilled wine, clothes in the washer, and a journey to the bedroom bring Brittany pleasure she hasn't experienced in a long time. Will she survive this encounter with the neighbor who is more than he seems on the surface.
4. Pussy Cat Six - Cameron is just a mechanic. A damn good mechanic, but still a mechanic. When he misses Stella's Halloween Party because he's working on a 67 Impala for a local billionaire, he's not surprised to get a visit from Stella's cat, Six. When he finally finishes up for the night, he will be real surprised to see what the cat drug in.

These four holiday quickies are sure to excite and please you, because who doesn't love trick or treating, especially when both the tricks and the treats are so enjoyable.

Famous Book Quotes
"Classic′ - a book which people praise and don't read." ― Mark Twain
View More