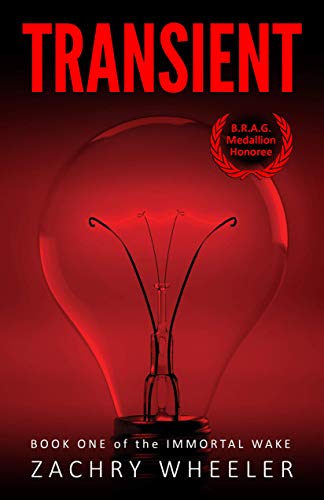 01/06/2022
Blade Runner meets Black Mirror in this tech noir saga.

* B.R.A.G. Medallion Honoree
* Readers' Favorite® 5-Star Selection

"An exceptionally well-written, thought-provoking novel that ultimately carries a humanist message, contrasting feigned morality with perceived evil." —Lex Allen, Readers' Favorite

In a dark and distant future, death is obsolete.

Jonas is a transient: a human spy living as an eternal. His mission is simple: always learn, never get caught.

In the year 2578, an immortal regime controls the planet. Endless war has pushed humanity to the brink of extinction. Desperate to survive, the remaining factions deploy teenage spies, hoping to defeat the enemy from within.

After years in the lion's den, Jonas has grown to admire the eternal civilization. He is learning to love what he blindly hated, blurring the mission and himself.

But a reckoning is coming. The fates of billions hang in the balance. When the axe falls, Jonas must choose between his family and his species.

Digital Books

A story that is not streamlined with a particular genre is listed under others. These books generally have mixed content. Somewhere these books talk about romance and switch to suspense after a couple of pages and many other kinds of content can be expected from these books. Readers who are not too specific about the genre can pick any from others. If you have reading habits and can pick any without being so particular then others section is for you. Selecting a genre-specific book might be a tedious task for you. So just go easy. Happy Reading.
Famous Book Quotes
"Science and religion are not at odds. Science is simply too young to understand." ― Dan Brown, Angels & Demons
View More