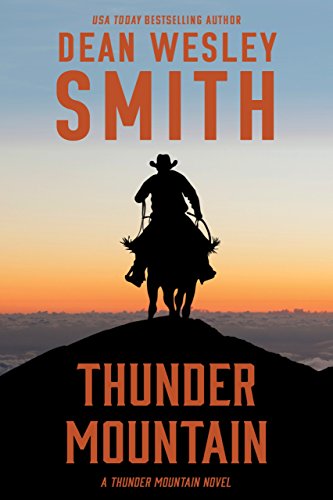 12/15/2022
USA Today bestselling author Dean Wesley Smith weaves a science fiction tale of love and survival of two modern professors dealing with the past.
Offered a free trip into a remote Idaho wilderness that she loves and studies, Professor Dawn Edwards can't refuse. On the trip she meets Professor Madison Rogers, and they fall for each other before they even reach their destination.
But living in the Old West proves to be a brutal task. Somehow, Dawn must survive to rescue herself, her friends, and the man she loves.
A science fiction novel of new times in the old west.
Thunder Mountain series
Book 1
"Thunder Mountain by Dean Wesley Smith is one of those reads that defies genre classification. Take some romance, throw in a little bit of historical fiction and add a dash of time travel and science fiction and you have the basis for this interesting story. … The premise for Thunder Mountain is intriguing and will appeal to fans of both historical and science fiction. This is an easy, light read, and I am interested in revisiting these characters on their future adventures."
—Fresh Fiction
"The romance between Dawn and Madison is warm and primarily private. The time travel is creative and the history detail is rich and engaging. This story and reading pace moves along quickly. This is an entertaining story and I recommend it to readers who enjoy a fun time travel to the old west with romantic element."
—Martha's Bookshelf
Digital Books

Famous Book Quotes
"Reading one book is like eating one potato chip." ― Diane Duane, So You Want to Be a Wizard
View More