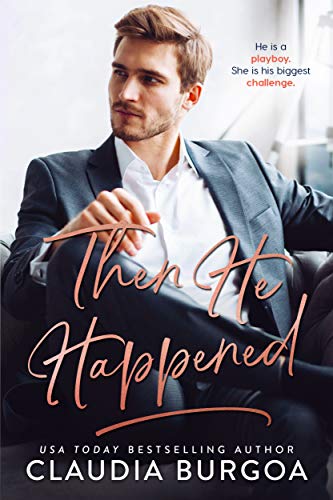 05/24/2022
Top 100 Amazon Book

Jason is a cynical rich playboy.
He doesn't take life seriously,
He doesn't believe in settling down.

Eileen's thirtieth birthday is almost here.
But as always she's her parent's afterthought.
Her family is too busy planning a shotgun wedding for her older sister—and she has to help.
It's just another year where she's overlooked.
But the best man is smoking hot and actually notices her and makes her feel special.

Jason doesn't believe in commitment, but Eileen intrigues him.

She's not the kind of girl he usually hooks up with.

She doesn't even fall for his charm.
He's made it his task to convince her that he's not the shallow man she thinks he is.
But can Jason give up his playboy lifestyle to become what Eileen needs?

USA Today Bestselling author Claudia Burgoa brings you a romantic comedy with the feel of Sixteen Candles and 27 Dresses.

Those books that give you pleasure and laugh, we could declare them Comedy or Funny Books. Humor is a funny thing that can allow you to improve your work-life balance. Pinpointing exactly what an individual will discover funny is not a specific science. There are many different varieties of comedy, but what makes it funny is a matter of opinion. Comedy books differ from person to person since some people find them humorous while others don't. There are thousands of comedy books available in the offline or online market. Comedy books will keep you away from all-day tensions or problems that you have in your life.
Famous Book Quotes
"The love of learning, the sequestered nooks, And all the sweet serenity of books" ― Henry Wadsworth Longfellow
View More